It's Spring!  I have to say, one of my most favourite seasons of the year – there is a promise, there is a ripening, there is a bursting forth of beauty and green healing energy.  Love it!!  Today there was a stunning rainbow in the sky, I drove past baby lambs cavorting in fields and witnessed 2 eagles dancing in the sky together.  Pretty fantabulous day.  Again, we are working with Sacred Rebels this month as that feels so appropriate.
We have just passed the Equinox, which was all about commitment, so I invite you to take a moment.  Be present for yourself, look at the cards and ask from them what you need, what will help you this week, or what will help with any commitments you have made.  Gently close your eyes and breathe deep down into your toes, feel your belly expand, your rib bones stretch out to make more space and as you exhale do it through an open mouth and feel your shoulders drop and your jaw relax.  Let's do it one more time, see your feet firmly planted on the earth and breathe into that space, feel the nurturing energy rising up in your body in your inhale, then exhale and release.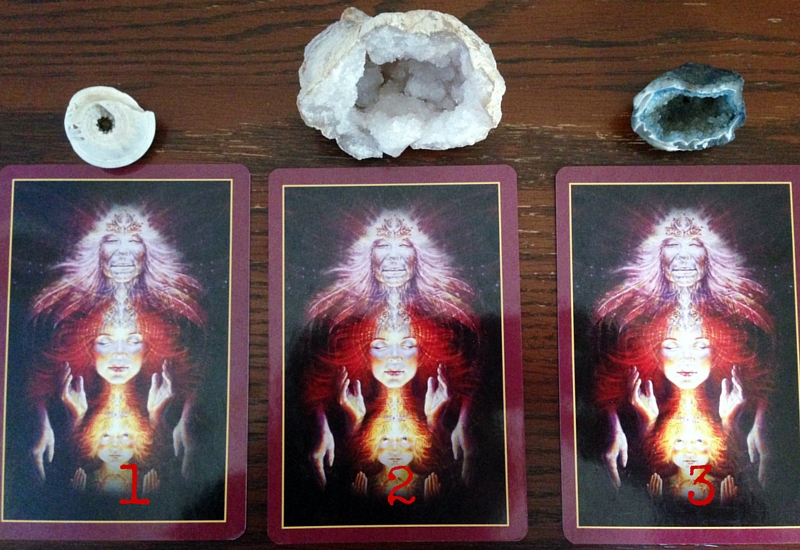 Ready?
Here are your gorgeous guides.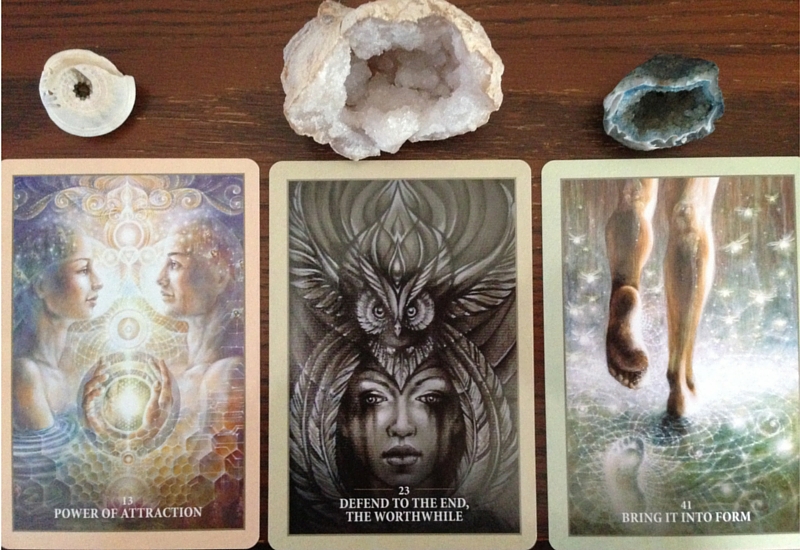 POWER OF ATTRACTION
There is such wonder awaiting you.  There are so many beautiful adventures and so much magic yet to be.  Can you keep your heart open to what is coming towards you, without surrendering your experience of this moment y becoming too future oriented?  You are a big soul and with that often comes big dreams.  You might worry that you want too much out of life.  Perhaps you think that you are only capable of small dreams.  This oracle is reminding you there are stages of creation.  You can build a house without a foundation and then flooring.  Your big life dreams are a work in progress.  Just like you.  You are going to attract whatever is needed to complete your work in progress and bring it to fruition.  Remain open to receive and trust in the unfolding of your life experiences.  Do not turn away.  All of the necessary elements are coming together.  Allow this integration to occur so you can manifest your dreams.  
DEFEND TO THE END THE WORTHWHILE
Beneath the illusions, pretty as they may seem, you know what is real.  Beneath the lies, sweet though they may sound, you know what is worthwhile.  All that is genuinely and truly essential for the heart to throb with life is worthwhile.  Anything that dulls it of suffocates its vibrant aliveness, must be questioned, challenged, and more than likely, cast aside, for the heart is our key to living an authentic life.  You are a sacred warrior – a defender of the heart.  You must not heed the dangerous voices that say, "Oh stop being so sensitive!"  The sacred warrior is vigilant that the presence of love is not chipped away by fear, criticism, doubt or untruths.  This oracle brings guidance to honour even the smallest steps in your path of the sacred warrior.  Respond to the presence of fear (whether it is masked as anger, hate or doubt) and immediately respond to it with fierce compassion.  The spiritual warrior will not allow fear, darkness, sleepy ambivalence to gain a stronghold in your gorgeous, bright amazing heart.  You are being asked to stay strong and stand your ground.  
BRING INTO FORM
Beautiful dreamer, you can imagine wonderful worlds of light.  You Can dream up so many possibilities.  Now it is time to bring those possibilities of light into the world.  They need to be more than ideas.  They need to live, to manifest.  The world needs not only your dreams, beautiful as they are, but also your creations.  Get thee to thy desk!  Thy easel! Thy computer!  Create!
You are being asked to honour yourself with a commitment to complete your inspired tasks.  This will help you to grow and that is a wonderful reason to commit.  But, there is another reason too – you know that your inspired ideas are worth translating into practical forms so that other people can access them and experience something special too.  This oracle confirms that the information you need to translate your ideas into form will be provided according to the higher wisdom of life.  It may or may not happen by traditional routes.  Even if it seems unimaginable, when it is time for something to be born into form, nothing can stop it.  It will happen!