It is the gorgeous leap day!  An extra day in the year.
 So I invite you to take a moment and just stop what you are doing, breathe deep into your belly – exhale with a sigh.  Relax your jaw, feel your spine lengthen as you breathe.  Look at the cards and then gently close your eyes, take another gorgeous belly breathe and as you exhale ask yourself what you need to hear right now, what guidance is there for you.  Trust you, trust your intuition and pick a card.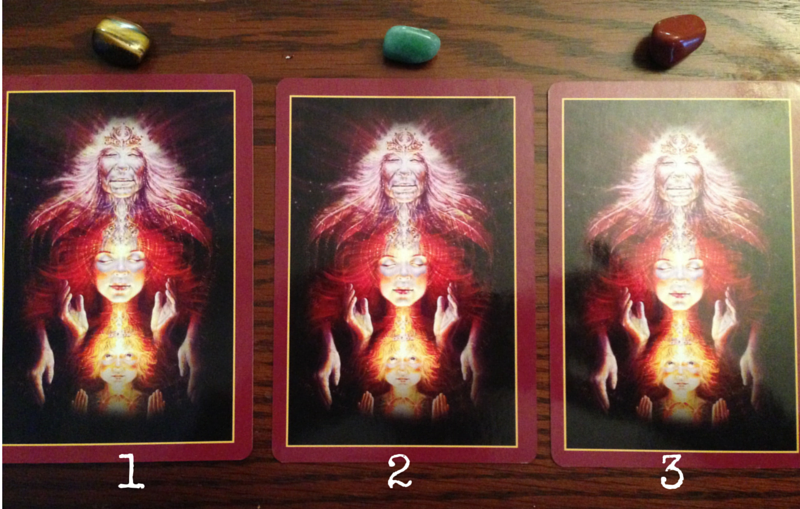 You've picked?  Good.  Now let's see what the gorgeous message is for you today to guide you for the week.  The stones above the cards are Tiger's Eye, Aventurine and Red Jasper.   Ready?  So here we go, I love how this reading came out it is like a delicious story from creation through manifestation to receiving.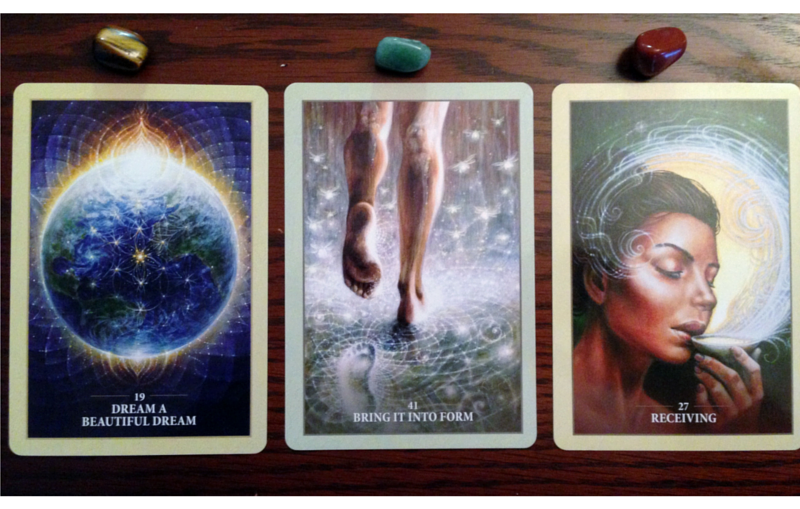 DREAM A BEAUTIFUL DREAM
The urge to create is the same within you as it is for the universal creator.  It also has the same magical ability to draw harmony into being to to find beautiful order in chaos.  This includes bringing harmony and the perfect balance of wellbeing into your body, mind and emotions.  If you feel blocked, thwarted or contaminated by others in your quest to bring your beautiful dreams to life, you may feel that your heart is dulled, minimised or shut down.  Give yourself permission to feel and be beautiful in many ways.  There is a situation in your life right now where you feel uncertain about your ability to "fix" or heal.  You may feel inhibited in your ability to bring about constructive change.  However, the perfect beauty of this situation is not revealed by what you attempt to do to it, or by trying to impose on it.  There is a beauty in it and by that revelation it is healed and perfected.  In opening up to the beauty within yourself and your circumstances, you open up to change.  You can overcome resistance and denial by approaching it with a curious mind, an open heart and acknowledging the hidden beauty.  You have the power to be a positive influence in whatever situation holds the most meaning for you right now, and you need to know that.
BRING IT INTO FORM
Beautiful dreamer, you can imagine wonderful worlds of light.  You Can dream up so many possibilities.  Now it is time to bring those possibilities of light into the world.  They need to be more than ideas.  They need to live, to manifest.  The world needs not only your dreams, beautiful as they are, but also your creations.  Get thee to thy desk!  Thy easel! Thy computer!  Create!
You are being asked to honour yourself with a commitment to complete your inspired tasks.  This will help you to grow and that is a wonderful reason to commit.  This oracle confirms that the information you need to translate your ideas into form will be provided according to the higher wisdom of life.  It may or may not happen by traditional routes.  Even if it seems unimaginable, when it is time for something to be born into form, nothing can stop it.  It will happen!
RECEIVING
You are so loved.  Your every need is witnessed and responded to by the universe.  However, you sometimes forget this.  You become swept up in the momentum of habitual consciousness, and you forget to take a moment to stop, breathe and be.  In that moment you can receive the love of the universe that is receiving you.  It will nourish you with contentment and energy.  You haven't done this enough, so your soul is becoming parched and is drying out.  Do you know how much joy the universe gains from being able to give to you?  When you delight in what you receive there is joyful communion between you and life, energy flows more freely and magic happens.  An exquisite life experience is your birthright.  Enjoy it!  Soak it up.  All of it.