Happy Marvelous, Magnificent, Magnanimous, Magickal, Mysterious, Manifesting, Miraculous Monday! How are you delicious lovely? Are you keeping your sense of balance as the holiday season ramps up with fervour and a tad of franticness? I hope so! Wow, this is the last reading for 2018! Holy Hannah this year has flown by with all sorts of wondrous and "interesting" aspects to it.

This week we welcome in the Full Moon that is also referred to as the Cold Moon or the Yule Moon. This Full Moon occurs on December 22nd (just after Solstice). As the days get shorter in December, we force ourselves to get through the darkness. Now is a good season for spiritual alchemy — time to evaluate your life, and know that you'll survive the dark times. If you've already put the darkness behind you, take your good fortune and share it with others. You will feel more open to change in your life and may actively seek it out. This is a good full moon for trying something new in your domestic routine or personal life. Your stronger than normal intuition can guide you in making quick decisions on which way to go. Follow your instincts and make the most of any opportunities that come your way. This is also a lovely full moon to invite original ways of doing things into your life because of your inquisitive and inventive nature.
You might receive flashes of insight to solve lingering problems in an instant. Chance encounters can also provide valuable information. You are more likely to stumble upon some critical piece of information while surfing the net. Chance encounters may lead to instant attraction and new friendships.
As we leave the season of late Autumn we enter the season of Winter which is brought in by Solstice (Yule). This is where we are invited to the downward spiral, the slow descent as water returns to Earth, emotion (water) coming into form (earth). The energy is descending and the light is low—this is the most inward, the most yin, part the year. Yet this is the time of year where we have the most Yang activities!

However, you can't fool your body. When you really are tuned into your body and listen to the messages, your body often tells you things before anything or anyone else does. For example, I moved a few months ago to somewhere where there is no snow (which most certainly invites me to cocoon and eat hot soup!), and yet my body is responding stronger than ever! It wants to relax, rest, rejuvenate, replenish, create and imagine.

When my kids were little (I mean wee in age), I sent most of them to the Waldorf school. Why? Because especially in the younger years the Waldorf school encouraged creativity, curiosity, paying attention to the seasons and appreciating that we are connected to everything and that magic is everywhere. I remember a glorious book that I encountered there that depicted how as we enter winter all the little seeds, bulbs and animals would tuck up in the roots deep in the ground where Mother Earth would read them stories and sing them lullabies so they slept long and deep through the snowy, icy days until the temperatures warmed and they could stretch up towards the sun. The imagery was amazing!

I love, love, love Solstice – to me it's that perfect balance point and the start of something new and exciting, filled with potential and possibilities and I can feel the energy of it for a few weeks before it even arrives. There is a sensation of reflection, going inwards and questioning that arrives naturally from this energy. To me this is a time where I notice those "meh" moments more and really examine my life and ask the question "Am I showing up and embodying what I am called to do?" That's why, to me, I feel it vital to take some time out to honour this energy and work with it which in turn allows me to feel aligned. In fact I feel more balanced, connected and inspired after I have taken some time.

On Thursday I will be sharing a gift for Solstice, with rituals, a lovely guided visualisation to help you walk into the mysteries of the dark. This will only be offered to my amazing lovelies who are on my email list, so make sure you sign up if you want to receive it.

Over the weekend here the winds were wild! I mean blowing at 40 – 70km an hour and they were so strong that when I would crack open the front door I could hear the ocean pounding against the rocky shore. Talk about deliciously primal! In fact the energy and wind called so strongly that Saturday night found me, dragging my niece along in the dark to walk up to the ocean and just let that activating, primal energy surge through me and wrap around us. It was quite amazing to say the least and certainly cleared out the cobwebs! (Thus when people say to me that Water or Wind aren't very strong elements I say "rubbish")! It was quite delightful to snuggle up in a warm, cosy bed and have the window cracked a smidge and let the howl of the wind, and the sound of the waves pounding, lull me to sleep. I highly recommend it!

Oh yes, as I mentioned last week as a gift and to raise money for the homeless shelter (with the focus being on children), I am offering a Solstice special on Private Readings.  I still have 3 spots left as 3 wonderful people have been very clever and taken advantage of the Solstice pricing but would like to have their readings in January (which to me is a great idea).  Thus, if you are interested I highly suggest you take advantage of one of the 3 spots left before the year ends!

Okay – now let's crack on with the reading. When I sat with all my lovely decks and asked who felt a strong urge to come support and guide us this week as we head into the dark and the shortest day I was tickled to see who hopped up. The Oracle of Shadows & Light were most adamant that they needed to be front and center. Now, if these guides are new to you, let me briefly introduce you:- "Bittersweet, Unheard, Unconventional, Rebellious, Cheeky, Whimsical, Invisible….. They're not words you often hear associated with the spiritual world, are they? Nevertheless, some of the most spiritual beings who have ever lived are those who have been most at odds with what we call the mainstream. They do not fit in. They have had moments of despair. And they know being truthful, and being real, is one of the greatest strengths and spiritual paths of all! They ask you to step out from the shadows, to no longer hide your light away, and come and consult with guides who acknowledge your individuality and strange genius!"

How perfect are they for this time? Whoot!!!!!

The crystals that wiggled and bounced around are:- Black Moonstone, a Clear Quartz Geode (think of the mysteries that can hold), and Moonstone.

So delicious lovely, take a moment. Just wiggle your fingers and toes and breathe into all the corners, pockets and creases in your body. Allow yourself to breathe in the stillness that comes at Solstice, the warm dark that allows you to rest. Breathe this in and as you exhale through an open mouth let go of anything that is keeping you tight and tense. Allow your mind to calm and when you are ready ask the guides who wants to come support you this week, then pick the card or cards that resonate for you.

Did you remember to pick?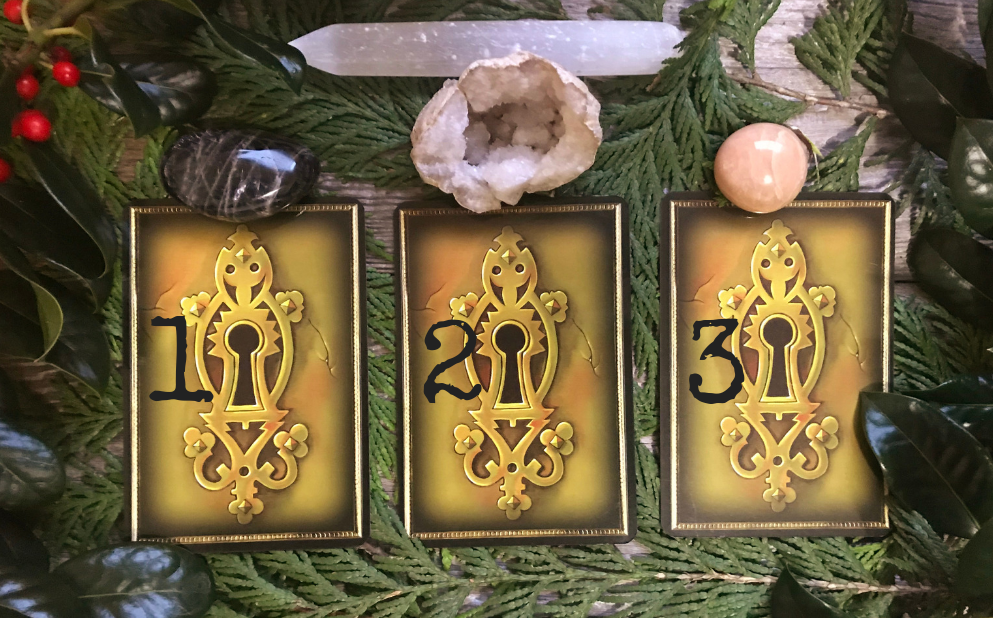 Ready, to go see?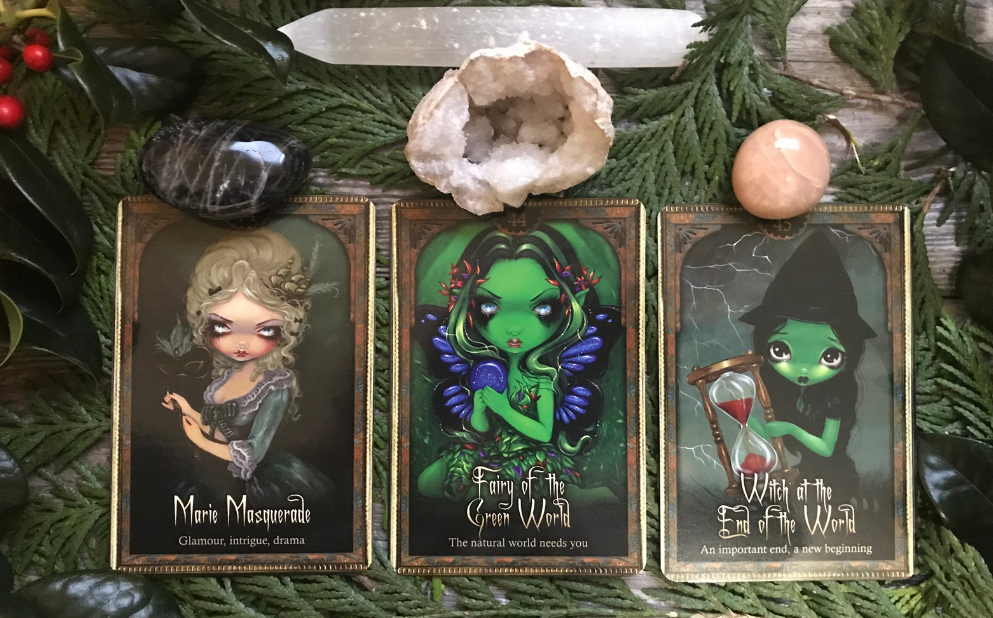 MARIE MASQUERADE

Marie is very much like the famed Queen of France Marie Antoinette. She is stylish and delightful, always finding new and fascinatingly creative ways to amuse herself. Wherever she is, there is decadence and style, truly glamorous moments, and lavish entertainments. But even she knows she is simply amusing herself and that there is a hole t the center of her being where she wishes she were loved for who she truly is and could rely only on her talent and style to express herself, and not be judged for this. To be her friend is no problem at all as long as you remain truly yourself. Only, being with her has somehow made you wish to be more like her. Look beneath the mask, and the beauty, and the exquisite stylings, and see into her heart. Be her friend, and be her companion, but never forget who you are, and what is important to you.

Someone is about to invite you to be involved in something very intriguing. And this person will ask you in ways that are ever so charming, so the temptation will be ever so strong. Because this person is beautiful, and talented, and powerful, you are flattered! But the truth is, you run the risk of paying a very high price for this brush with fame or glory. Be sure that the politics and the intrigues are ones you truly wish for in your life – because there is often a sacrifice that must be made, and many consequences are currently hidden from you. It is tempting, no doubt. But it may not be within your best interests to pursue this strange, slightly tainted offer that will be made.

Be true to your own vision as opposed to what is currently fashionable and considered desirable. Creating, rather than following.
FAIRY OF THE GREEN WORLD

This little green faery signifies and embodies the life force of the green world. She is seen tending to plants that are drooping, too moist, or too dry – she is like a nurse or healer, assigned to the plant realm, great forests and small personal gardens alike. She is joyful every time someone gives energy to this realm – every little bit helps nurture the plants, which are very tired: fewer and fewer plants and trees and forests are expected to provide more and more life-giving oxygen for animals, elements, and we humans! Sometimes she becomes overwhelmed will all we humans have done to the green world – so she may be about to ask for your help. When you give her your help, blessings are returned to you threefold.

The green world is changing, and I am asking for your help. The world needs you to tend the green things in it in some way right now – and it is your time to make a contribution. Time to plant a garden, assist another with theirs, or share some food, flowers, or herbs from your own. Develop your connection to solar energy, find your own water source, and depend less on supermarkets, ATMs and electricity.

Learn to live with her, the soul of the green world. By providing the world with this beautiful example, you are nourishing and nurturing our mother, the Earth, who feels so tired some days! Find a forest, or a grove of trees, or a fairy ring of mushrooms – somewhere that speaks to your soul – and sit with her a while. When she breathes her messages through the leaves and whispers words of wisdom into your ears, you will know the right place and time to devote this sacred donation of time and energy. I thank you in advance. The faeries will be sure to help you in return!

It is a time for growth, for abundance, for the earth element to find its way true and strong in your beautiful life! Join with the natural energies of the planet – and the galaxy!
WITCH AT THE END OF THE WORLD

Storms fly about her, electrical whips crack through the heavy air with their bites of fire, and she sits among them, hugging her hourglass, holding everything together till the force creating the change has done its work. When the Witch at the End of the World makes her appearance to you, you will know that something's time has come. There can be no more delaying, for the change has begun. So the best thing for you to do now is prepare for this change. Find solutions to challenges that will come up when the change comes. You will be fine, by the way, and all will be well, but there will be a time of seeming chaos and difficulty. If you are prepared, and ready to let go and change, and let something end, the little witch's countdown will not affect you as it will affect others who refuse to acknowledge that changes are coming and become fearful at their inevitable approach. There is nothing to fear, but plenty to prepare for. You will be safe, and well, and very ready to embrace the new world.

I am not wicked, but I am a witch, and changes are made when the world bends and shifts. I hold this hourglass up to you now so you know that the time for an ending is almost upon us. You can see the signs all about you – the strange weather, the hurricanes, the cyclones, the earth changes all about us – but so many simply say I am wicked for showing you this. They blame me for what they call the catastrophes, and they ignore the signs. They are with you, and it is time to be ready. We are all about to experience a huge change – and it will be for the better. But while we hold on to the old, the storms will blast us, and the land will shift, and self-healing will look like destruction.

There is nothing to be frightened of; only a voyage to weather, and you'll make it through to the other side of the storm. The changes are part of our journey to a fifth-dimensional world, of the shift to a more peaceful planet, where shadows and light are loved and accepted. All is well.
So there we have it delicious lovely, the last reading for 2018 as I will be taking the holiday time to play, sleep, create and vision (unless Spirit kicks my arse and tells me to do a reading!)  Remember, if you would like rituals and a glorious guided visualisation for Solstice, make sure to sign up on the email list. Also, don't forget if you want to take advantage of the Solstice special on Private Readings there are 3 spots left!  If you want to book it and save it until January to start your 2019 off with guidance, just let me know. Wishing you a glorious Solstice, a beautiful playing with the mysteries of the warm darkness! Also wishing you a fabulous holiday season filled with love, light, huge hugs, laughter and warm drinks.  Remember to play for goodness sakes and don't get caught up in what you think it "should look like", just enjoy the people you are with and those glorious moments of connection and community. Sending you massive warm hugs, big gingerbread kisses and golden light! Talk to you soon.