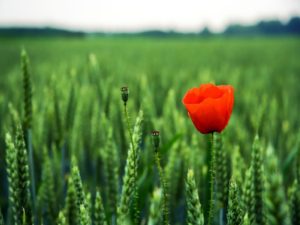 How is it that this one little flower has had such a profound impact in a myriad of countries?  I'm not referring to the rose, daisy, but the Poppy.  Actually the common Corn Poppy.  So why does this flower have such a big impact?  Every year from the last Friday of October until just after November 11th  the Poppy starts to bloom on lapels, blouses, scarves all over the world.  This is not just a Canadian thing.  The countries that wear the Poppy are UK, Australia, Canada, New Zealand, South Africa and the UK sends over 3 million poppies to 120 countries.  
So again, why do we wear the Poppy?  Because every year this little tiny flower unites millions of people together in Remembrance and Hope.
During the First World War (1914–1918) much of the fighting took place in Western Europe. Previously beautiful countryside was blasted, bombed and fought over, again and again. The landscape swiftly turned to fields of mud: bleak and barren scenes where little or nothing could grow.  During the First World War, enormous artillery bombardments completely disrupted the landscape, infusing the chalk soils with lime.The spring of 1915 was the first time that warm weather began to warm up the countryside after the cold winter at war in 1914-1915. In the region around Ypres in Belgian Flanders the months of April and May 1915 were unusually warm. And Poppies bloomed!
Bright red Flanders poppies (Papaver rhoeas) however, were delicate but resilient flowers and grew in their thousands, flourishing even in the middle of chaos and destruction.  Covering the graves and the ugliness that had been created with blasting and bombing.   In early May 1915, shortly after losing a friend in Ypres, a Canadian doctor, Lt Col John McCrae was inspired by the sight of poppies to write a now famous poem called 'In Flanders Fields'.
McCrae's poem inspired an American academic, Moina Michael she began a tireless campaign at her own expense to take up and make and sell red silk poppies which were brought to England by a French woman, Anna Guérin.  Who created the  American and French Children's League" through which she organized French women, children and war veterans to make artificial poppies out of cloth.  
On July 5th 1921, the Great War Veterans' Association, the largest of several Canadian veterans groups, adopted the poppy as a symbol of remembrance. The Canadian Legion, formed in 1925, continued this connection. The poppy was worn on the left lapel and close to the heart to recognize the sacrifice of soldiers in times of war. They were initially made by disabled veterans and the proceeds of sales, then and now, go towards funding veterans' needs.
…….. So where are we now?
In 2011 Canada distributed over 18 million poppies.   So let me ask again, Why wear the Poppy?
Because by wearing a poppy, you aren't just remembering the fallen: you're supporting a new generation of veterans and Service personnel that need our support. Past, present and future.