Happy Marvelous, Magical, Magnificent Monday!  How are you?  How has your week been? Have you decided what your Word of The Year is going to be.  It has snowed, and snowed here for the last week, so my way of dealing with winter is to dose up on D3 and get outside and play – which ties in with my WOTY – Delight.   So I had a glorious weekend of play, lots of skiing between the trees and alongside a river (which was deliciously magickal), sledding with the kids and hounds.  Albeit I found out that my Akbash feels he needs to try and rescue me when I am whipping down a steep slope on my flying saucer by trying to grab onto me, or throw himself in front of me.  It made for some interesting adventures!!
Yesterday I felt that a good cleaning of my home and an energetic cleanse had to happen.  So I cranked up the music and went to work.  I did the windows, had a little dance break, bopped around as I did all the laundry, then pretended to be a fairy as I dusted, vacuumed and searched out lurking dust bunnies that were trying to hide in the corners.  I decided to lovingly polish all the wood furniture.  As I was gently rubbing oil into my dining room table that I inherited from my parents, and it's about 65 years old, I had a massive flashback to when I was little.  Every Sunday one of my chores was to polish the same table and I loved making it gleam and I would scramble around underneath it to make sure all the legs were polished and shiny.  So funny to see how that ritual has stayed with me as an adult (although I don't tend to hide under the table anymore).  When everything was all cleaned, sorted and glowing I then smudged the whole house setting new intentions for the energy of our home, trust me it makes a huge difference and with New Moon in Capricorn happening on Tuesday, it seemed like the most natural thing to do as New Moon is a glorious time to plant the seeds of something and to set intention.  
At the time of this New Moon, there will be a lineup of the Sun, Mercury, Venus, Saturn, and Pluto all in the sign of Capricorn. This rare alignment is known as a stellium.  Having a line up of so many planets indicates that this New Moon is going to bring a lot of earthy Capricorn energy for all of us to play with.
This is the perfect time to take action in your life and begin making small, practical changes in order to bring more joy, abundance, love, success, and whatever other ways of being you would like to have more of in your life.  While this is a great time to take action and express yourself outwards, there is also this energy pulling us to go deeper within ourselves and to really connect to that heart center.
The good thing about this Capricorn New Moon is that it has a lot of energy, which means that you can use this energy to serve you in any way that you need.  Tune in to yourself and ask-  "What is something I could use support with? What would I like this New Moon to bring into my life?"
Then set your intentions, plant your seeds for the future and what you want to grow and flourish  in your garden and then give your wishes up to the night sky.  
Thus, with all that being said let's get on with this weeks reading.  Now normally when I do these readings one deck bounces around calling loudly to be used.  This week there were 3 decks and none of them were willing to back down, so for the first time this reading is done with a card from each deck.  Also interesting to see was who else vied to come play and actually pushed the crystals out.  Wood, A Sand Dollar and a glorious rock from a beach I found years ago.  So think about it – we have 3 decks, wood, water and earth.  Most interesting!  (Love it when the Divine takes over).
So take a moment.  Just stop and roll your shoulders up back and down and feel your shoulder blades fall down either side of your spine like glorious wings.  As you breathe in through your nose and out through your mouth envision a golden light coming out of the bottom of your feet and down, down, down into the earth into the warm, brilliant lava centre and as you take another breath feel the energy of earth move up that golden cord – up, up, up through your body and out through the top of your head as a silver light reaching up and connecting you to the Divine.  Keep breathing in this way and allow the light from the Divine to come down, through you and into the earth, then up from the earth, through you and into the Divine.  Ahhhhh, you are a glorious conduit for connection.  When you are ready, gently pull the energy back into your body, give your hands and feet a little shake and pick the card or cards that are calling to you.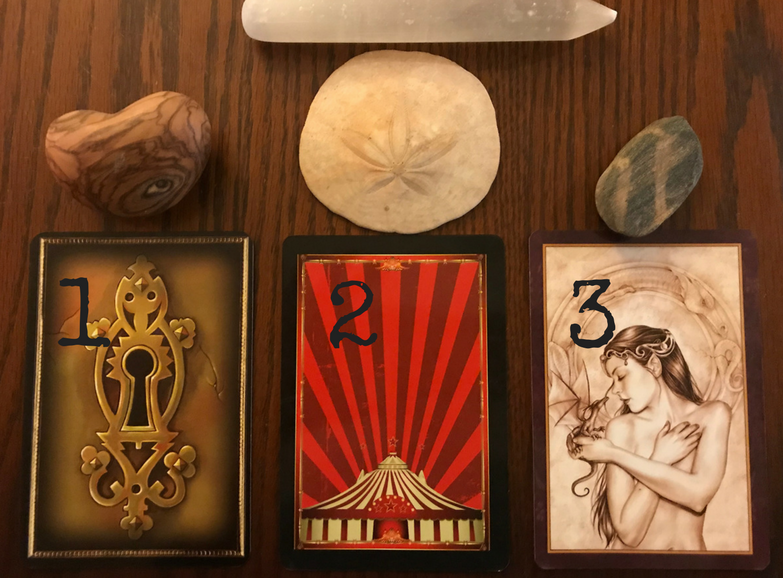 Ready to go have a little look – see?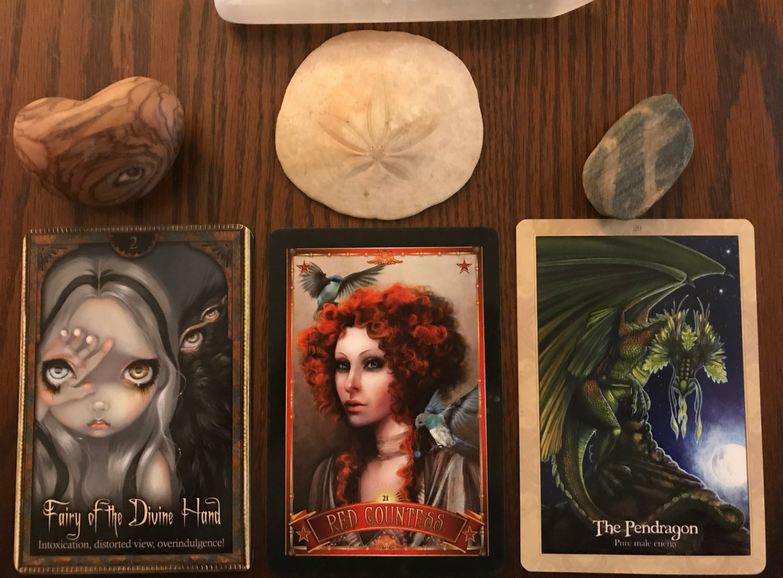 FAIRY OF THE DIVINE HAND
I am here to reveal to you what will tempt you.  It is delightful, this thing you are being offered.  And surely a little won't hurt?  I am Fairy of the Divine Hand, and I appear to you when you are blinded to what you must see.  You know how it is….you start having a piece of candy, some soda, maybe a little junk food, then before long, you have more.  It may be another habit, such as judging yourself or others way too harshly, thinking negatively, or giving up too early on exercise and good healthy practices, that you are indulging in.  Gossip too, falls under my domain.  While it can be wickedly delicious, it always leaves such a sour aftertaste.
Come and truly examine what is being offered to you.  Underneath this apparently harmless fun, spending, partying, distraction, or giving up too early on exercise and good healthy practices, and temptation lie disorientation and fear, and things may appear to be quite different than how they truly are.  But here……look and look closely.  Do you begin to see what will take place if you continue down this path?  Do you sugarcoat the possibilities of where this may end? Do not push down the feelings and warnings you have; instead come a little closer, and look.
Do you begin to understand that what seems such a small thing may indeed change lives?  Take a moment.  Look.  Think.  Connect with  your deeper wisdom.  Decide whether you will join in with what is tempting you, or whether you will watch a while longer and make the wise decision instead.  
You know when this temptation comes that you do not need to flee, you do not need to indulge, you do not need to curse and berate this lovely, very earnest fairly with her clear message to stop, and truly look at what is taking place.  You know you simply need to pause.  Be quiet.  Clear.  And know now that one of your fiercest addictions is seeking you out, and you are wavering, caught in its delirium.  This is not an opportunity to escape.  This is your chance to break free!
RED COUNTESS
Deep within, you know what is true and what to do (or not do).  Yet there is so much noise and distraction in the world, and even at times in our own minds, that listening for our inner wisdom can seem like trying to hear gentle birdsong in the midst of a rock concert.  Even so, you are hearing an inner truth, and deep down, you know it.  Can you trust that it is safe to not only hear your inner voice but act on it too?
There is something that you know.  You've felt, sensed, heard or realised this truth more than once.  Even if others see or feel differently, you just know what you know, even if you don't quite know how you know it!  
Give your truths value.  Hold your feelings and insights in high enough esteem to pay attention to them, to give yourself time to process what you think, feel and sense.  Know that they're worth acting on, even if that action just means to trust more and stop worrying.   If you cannot figure out what your inner truths are, or you feel confused by conflicting thoughts and feelings, torn between head and heart, then you are in a state of information overload.  You need to switch off, discharge some excess mental and emotional energy and take a break.  Give yourself some time out from the crazy noise and constant distractions of the world so you can get in touch with what is true for you.
THE PENDRAGON
I am He who is the hunter, the sage, the father, the provider, the protector.  I am he who watches over his people and does his best for his family.  I am He: your brother, your father, your husband, your son.  I am sheer powerful masculine energy and I am the lover of the Goddess of the Dragonfae.  Together we create wholeness,  apart we wander alone and are more easily wounded, even destroyed.  I have a role: to care for others, to use my physical strength and to use my attributes to fight for those I love.  And I will do that.  I am King and Emperor and God…and I care for you.  Do not fear me: I would not hesitate to sweep you into my arms and hold you.
I love you, but know that my role here takes me away many times from all the love and playfulness that still lives inside of me.  Trust in my actions.  See the truth and choose a partner who is in action a strong and caring manly man. Think of some of your positive experiences with men this lifetime: from moments with your father, to times when a man has acted honourably.  Now, from those examples, begin to allow more of that version of masculine energy into your life.   
Gradually, let's change your ingrained and sometimes negative beliefs about men…and when Pendragon walks in, he demands that you treat the men he sends your way with respect and honour….just as he will treat you in return.  You will notice that ignoble men no longer have a place in your life and that you are no longer attracting them.  Indeed, Pendragon wonders why you would waste your time with people who do not behave in a noble fashion, and he does not want you to be involved with men who behave deceitfully, who are fearful of their own power, or who take advantage of members of their own family or their partners.
Holy Hannah, the cards had a lot to say this week about where we can get lost in our addictions, that we need to get quiet and allow our inner voice to speak to us and to celebrate and welcome in healthy masculine.  How did that feel for you? Even more interesting to see that the three decks worked together and that the elements that came to play totally tied into the message of the cards!  Sand Dollar representing water is Spirit and that's what the card asked you to do.  Love, love, love it.  Anyhow gorgeous one, wishing you an amazing week – remember to take a bit of time tomorrow to set your intentions and seeds with this lovely New Moon.  See you next week and remember – you are awesome and to smile (it looks really good on you).  Huge hugs.