Happy Magnificent, Magickal, Marvelous, Magnetic, Manifesting Monday!! (By the way if you know of any magnificent M words, let me know!)   To all the lovely Canadians out there "Happy Thanksgiving", a glorious time to remember all the things to be grateful for, glorious food and a beautiful space to create new memories.  We also celebrate the New Moon in Libra today, which is a delicious transformative New Moon. With it being governed by Libra, this is the element of air and this New Moon will feel like a burst of fresh air that will wake up your senses and remind you of what is really important.  As Lena Stevens shares:- "This is an important moon for anchoring balance, grounding, and receiving the support of your allies. If you are in the place of ambivalence around a decision, you could gain some emotional clarity around issues you have been trying too hard to "think through". It is important to take some time around this New Moon and focus on balance. It may mean taking some things that do not serve you off your plate and replacing them with some things that will serve you better. As you take inventory of your life at this time, ask yourself where you could use more support and help. Set some intentions to receive the support you need from the allies and the helpers that can give it."  If you have been looking to get out of a rut, looking to redo areas of your life or just looking for a greater sense of purpose, this New Moon is going to help. This New Moon is going to deliver the secret sauce you need in order to break through and raise your journey to new heights.  This illumination won't happen straight away, but if you pay attention, over the course of the next few weeks, you will be guided and supported.
All I can say is BRING IT ON!  September was a heck of a month and I am happily releasing it like a lovely autumnal leaf falling from its branch, and I will say It is soooo good to be back!  Also, I would like to say a huge thank you to all of you who emailed, messaged or texted asking me if everything was okay and sending me prayers and love. That was so incredibly amazing and I am exceptionally touched and grateful.  
So briefly to fill you in somewhat on what happened, as most of you know on Solstice I set the intention to live by the ocean and a few other things, and wow did the Universe respond!  Within 2 weeks I knew it was happening, so I built a huge workshop to store my things in, found a roommate situation (with a woman who seemed like she was relatively sane)- paid her a chunk of money, rented out my home, said goodbye to one of my lovely boys and my dogs and moved.  This was big for me as I had been in the same spot for 29 years to ensure that my children had stability and continuity as they were growing up. Thus, I arrived on the Island on September 1st, super excited and nervous as well. I helped two of my boys move and get settled into their new space and then contacted my roommate about meeting and move in time and all the parameters had changed.  Apparently she had rented out my space to students, so I was welcome to sleep on the sofa for a while until they left, I had to now park on the road instead of the driveway and it was only 2 hour parking, thus I would have to move my vehicle every two hours and no I couldn't see the space as she was busy. Wow!
Red flags sprung up everywhere as I felt that the rug I had thought was there was being twisted, manipulated and ripped out from under my feet.  I cried and cried and got rather angry with the Universe to be honest and advised this "delightfully manipulative" woman that there were too many red flags already and I hadn't even moved in yet, thus please return my damage deposit as I won't be moving there.  Nope was the response. No money returned, angry emails and texts and all sorts of crazy behaviour. It was sooooooo bizarre. Thankfully the boys let me camp out on their sofa for a month, which I was very grateful for as I was totally flummoxed and in a high state of fight or flight with a massive desire to just run home.  But I didn't. However, my body responded by getting sick not just a gentle tummy ache, but unable to eat, felt awful and anxiety was rampant. I lost 11 lbs in 2 weeks. Then as that eased up I went and had lunch at my mother's retirement community and ordered the safest thing on the menu – a toasted ham/cheese sandwich. When it arrived it was solid.  I mean solid and hard and guess what? I took a bite, experienced massive pain in my mouth and it had split and fractured my tooth! (Seriously) So for another two weeks it was a liquid diet and the weight kept dropping. So in total 15lbs lost and if you know me that means I am down to 120lbs at 5ft 9" – it's not pretty to say the least I'm also massively phobic about dentists and normally need to be highly medicated, but I put my big girl panties on – my niece came with me and held my hand and I let him have a look.  Due to the fact that I hadn't medicated he refused to pull the fractured piece out, instead advised me it was going to fall out any minute and so I should pull it out quickly otherwise it would lacerate my esophagus or fall into my lung!!!! WTF.
Thus, I had to ask my son to sterilise a pair of pliers and pull the chunk out for me, and bless his cotton soxs he did.  It took 20 minutes (so much for it dropping out quickly), but he got it out with only a mild laceration to the lip and no pain.  Talk about a trust exercise (and the fact I am not stellar at asking for help)!!!
During this time I was scrambling and looking at all sorts of places, some were glorious but highly overpriced, others would send me to a psych ward if I had to live in them, as they were dark, dank and dingy.  Finally I found a cute little old house that was only 3 blocks from the ocean and I could have it October 1st! Whoot! Excited puts it mildly. It FELT amazing, it FELT perfect, safe, cosy and just the right spot.  But hang on, I have no furniture, absolutely nothing as I was meant to be moving into a furnished place. Hmmmmmm.
So I played a game – can I furnish a house in a tasteful, functional way for $300?  Everyone I told this to said no. All I can say is that the abundance that flowed in was incredible.  Friends gave me lamps, dishes, kitchen utensils, cushions, blankets, candles – all sorts. I found a new bed for $60 which came with brand new sheets, an Italian leather love seat for $40 and was gifted a new sewing machine and a $4K leather, brass studded sofa! I was gifted a cute kitchen table and chairs and one glorious friend painted an amazing picture that hangs over my mantelpiece.   It was amazing!  I didn't quite make the $300, instead it was more like $450 – but seriously, that is amazing.  So you are all welcome to come visit!  
A week ago I moved in and wow! I have a garden to play in, I am doing a 40 day meditation/prayer where I walk a 5km circuit bright and early through the massive park, down to the beach, along the beach until I find "the rock" that calls to me.  I then pick the rock up, park my arse down and offer up thanks, prayer and stillness. I think walk along the beach and circle round and back in time for tea at 7am. I have  space to work and create, a place to invite friends over and I'm not sleeping on a sofa! (Though it was a very comfie sofa)  
So my take away from this whole experience.
Most certainly ask the Universe/Divine for what you want, set your Intentions, don't get freaked out when they don't unfold as you thought they would.  I do think the Universe likes to test and challenge you to see if your serious – don't run.  Trust, trust, trust, oh yes and when you can get out of your head, use the tools – trust, show up, believe, be willing to receive and take action.  Find the miracles in the mundane and know that the drama llamas are transitory.  
Now that I have shared all that, let's crack on with the reading.  When I asked the decks who wanted to show up this week I laughed my soxs off when I saw it was The Divine Circus Oracle.  Why?  Let me share with you the dedication if you have never encountered this delicious deck:-  "This deck is for those who find it hard to follow rules, conform, bend to authority and generally 'do what they are told'.  May your rebel heart always be bold. May your spirit always be free. May you remember to live the Divine Circus and have fun doing things the way you aren't supposed to, whilst living your most creative and unique divine destiny." The crystals that wiggled and jiggled to come play are:-  Malachite and two Ruby Zoisite's. (So if you pick the card based on the colour of the crystal this will be most interesting). Rosemary, Lavender and Purple Sage also wanted to join in, which to me is positively perfect!
Thus, I invite you to take a moment, a pause, a long breath and just be with yourself at this moment.  There is a lovely guided visualisation for you if you would like some more support with getting present and really celebrating you and the energy of this time.  
If not, just breathe, breathe long and deep and roll your shoulders up, back and down.  When you are ready ask, ask whatever you feel called to or trust that the Divine will guide you to the message that is meant for you.  Then pick the card or cards that resonate for you. Enjoy!
Did you remember to pick?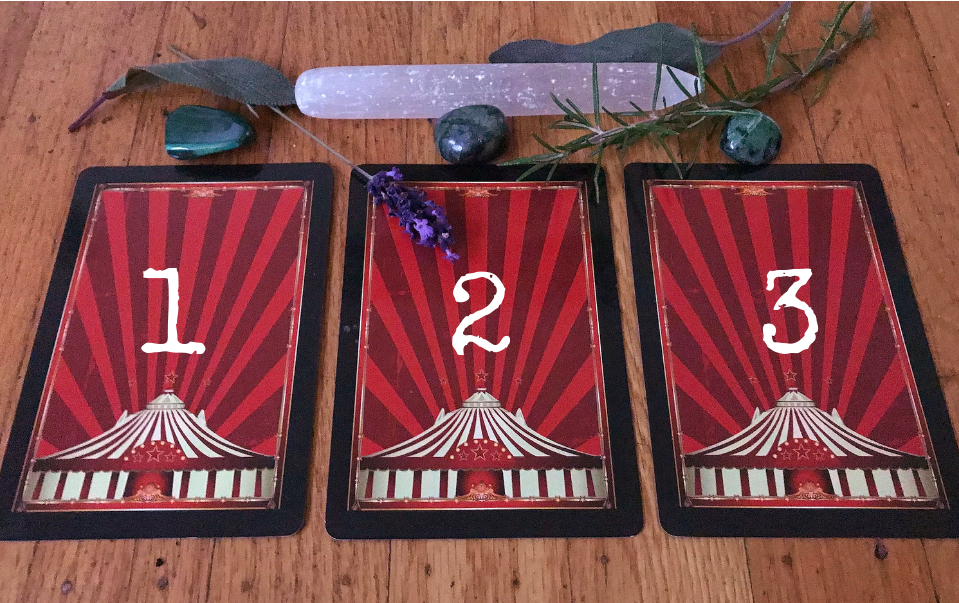 Ready to go have a look?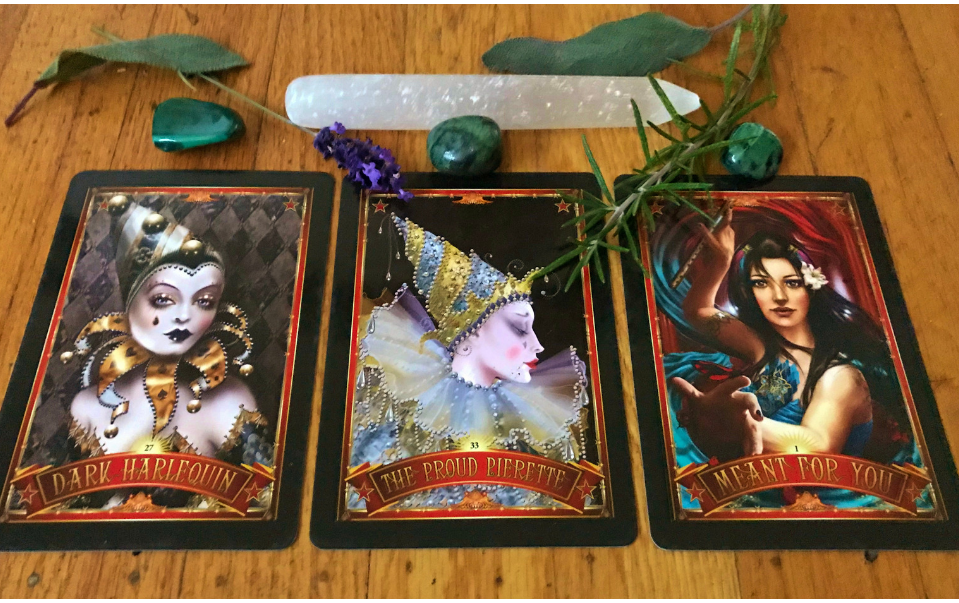 DARK HARLEQUIN
Bells are ringing from deep inside.  Something that once had to hide is seeking your attention.  It want out! It wants to be free! As you release what was once shut away, your discomfort shall turn to glee.  You are a spiritual adventurer! You are not afraid to go to the edge of what you know, of who you have believed yourself to be.  Even when before you there lies the darkness of unknown worlds, of undiscovered parts of you, even when you feel uncertainty, discomfort or doubt, you are still willing to figure out what it's all about,  
So you've come to a place in you, and in your life, where you don't know.  You don't know what's happening. You don't know how to work through it. You don't know who you are (well, not all of who you are).  You don't know what you don't know. You are at the point of not knowing because you are growing. There will be surprises. There will be discoveries.  You'll feel awkward at times, like you are trying to see in the dark.
Don't be afraid to let there be some inner rattling and rampaging.  You are at a time when you are naturally diving into the darkness for a healing purpose.  So ask the difficult questions. Do things you wouldn't normally do. Experiment with thinking in ways you wouldn't normally think.  Be willing to let everything change for the better by first letting go of how things are now. The messier your inner world seems to be right now, the more you can expect complete and utter transformation as a new order comes into form.  Expect the unexpected, for you were born to grow into what is happening now. It's time to let the wild thing out!
THE PROUD PIERETTE
If you were proud of who you are and everything you have learned in your life, free from shame, guilt or judgement, what would you choose for yourself today?  The choices you make for yourself from a place of feeling good are going to be more loving and helpful than anything from a place of self-judgement. You've nothing to regret, you've learned a lot and you are a beautiful unique being on a wild divine journey.  Be kind to yourself. Keep your head up! Then it will be easier to keep growing and glowing.
If you feel that life is getting you down, or you should have, or could have, made different decisions in life – you are doing a great job!  You are meant to have learning experiences. What matters is that you choose to learn. And you do! In your own time and your own way, you make sense of things, and you grow wiser and stronger as a person.
If you feel any ridicule, judgement or shaming is coming from those around you – trust you are stronger and wilder and more beautiful and true than any of that mean-spirited fearfulness.  Let the mud that is being slung slide right off or remain stuck in the hands of those throwing it your way. Keep your sense of inner dignity intact. Never make yourself smaller to placate the fear in another's heart.  Take pride in who you are. Be proud to be you! And know that this is a way to respect and honour the creative loving power of the universe that created you!
MEANT FOR YOU
You've voiced your intent, setting in motion a natural creative process.  What you want has been summoned forth and is now headed your way. Don't hesitate, refuse to receive, or pass this gift on to another.  It is meant for you. Grab it! Within this new opportunity is exactly what you have been waiting for….what you have been wanting to create, what truly makes your heart sing.
What is rightfully yours is – or very soon will be – right in front of you.  Caught up in a spiraling wave of new beginnings, it is time to reach out and grab what is headed your way.  Opportunity is the universe believing in you. Return the compliment by accepting what is being offered with open arms and a trusting heart.  You'll be glad you did.
Don't worry if this opportunity seems to be leading you down a different path to what you expected.  All paths lead us to where we need to be. Sometimes the universe just has a better idea of what will get us to our destination at the perfect time, and along the pathway that will be of most benefit to all.  Trust what is happening. Accept that you deserve good things to happen to you, and don't be shy. Now is your time to step up, open your mouth (and your arms) and say, "Thank you! I accept!"
What a glorious reading for this Canadian Thanksgiving and New Moon.  I invite you to use the energy of this day to really focus on all the people, places, situations and things that you are grateful for and to release and surrender those that don't serve you.  Write down your New Moon wishes and remember – there's magick everywhere, guidance and love everywhere. Have a glorious week and see you next Monday. Huge hugs and squeezes.