Hello delicious lovely, happy Magnificent, Marvelous, Magical, Mighty, Manifesting, Majestic, Mindful, Mesmerising Monday!  (Have to love the letter M lol). Did you know that in Egyptian writing, its ideogram is derived from the character for water, which explains why it's so gracefully written. In terms of Roman numerals, it represents the number 1000?  I really quite like the idea of the Egyptian ideogram and the letter "M".
November seems to be whizzing by and I don't know about you, but for me this last week has been an interesting weave of ups and downs what with this delicious Mercury Retrograde (which ends soon!), Remembrance Day and birthday's galore! The weather has emulated my state of being as the sun will be shining one minute and then torrential rain the next, but as I wipe the rain off that's pouring down my face I always remember to look up and see if there is a rainbow.  And there have been!
I have been working with a great book called "Writing Your Soul Down" and it totally feeds in to how my body is responding to the change in Seasons.  When sunset happens at 4:30pm it's like an internal reminder to light the hearth candle, light the fire and then curl up with the doggos and write from my heart, write from my soul.  Which has made for some very interesting conversations on paper! This can also be exceptionally challenging as the Season is calling us to take the time to go inwards, to hibernate, to tend our roots and be more introspective and reflective.  Yet on a societal level we are heading into the season of parties, sparkly lights and being more extroverted. So how do you find your balance? For me I have made certain practices non-negotiable and they are literally scheduled into my phone in case I get distracted or practice procrastination.  Remember, the Shamanic energy this month is of Proactive Change and the things that get in the way of that are procrastination and apathy. So what are you procrastinating on that would really nourish you. 
With that thought burbling in your mind let's go see who wants to guide you this week.
The cards that wiggled and giggled to come support this week are The Divine Circus Oracle, which made me laugh with Mercury Retrograde in play!   Now, if you have never worked with this deck before let me give you a brief introduction – "This deck is for those who find it hard to follow rules, conform, bend to authority and generally 'do what they are told.'  May your rebel heart always be bold. May your spirit always be free. My you remember to live the Divine Circus and have fun doing things the way you aren't supposed to, whilst living your most creative and unique divine destiny."  The crystals that came to play are the ones from the beach, the gorgeous rocks that I pick up every morning and bring home to their beautiful bowl.  And of course some delightful rose petals and Selenite to amplify.
Thus, I invite you to take a pause and a moment for yourself.  Just BE and as you breathe in a lovely deep breath resonant with what would nourish your soul and as you breathe out through your open mouth release the procrastination and apathy.  Breathe like that for a few lovely, luscious breaths and when you are ready, ask for the guidance that you need this week and then pick the card or cards that resonate for you.
Did you remember to pick?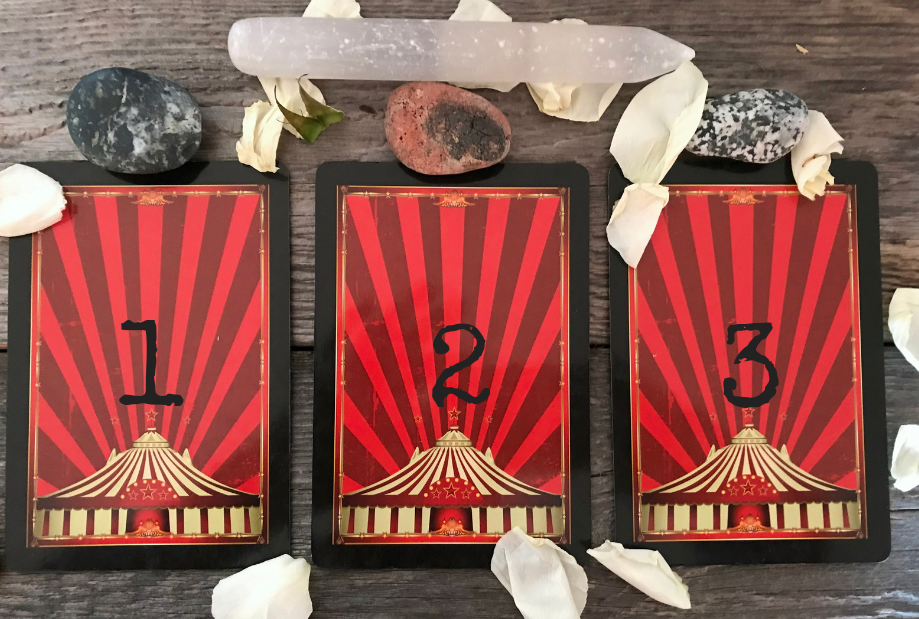 Let's go have a little look see, shall we?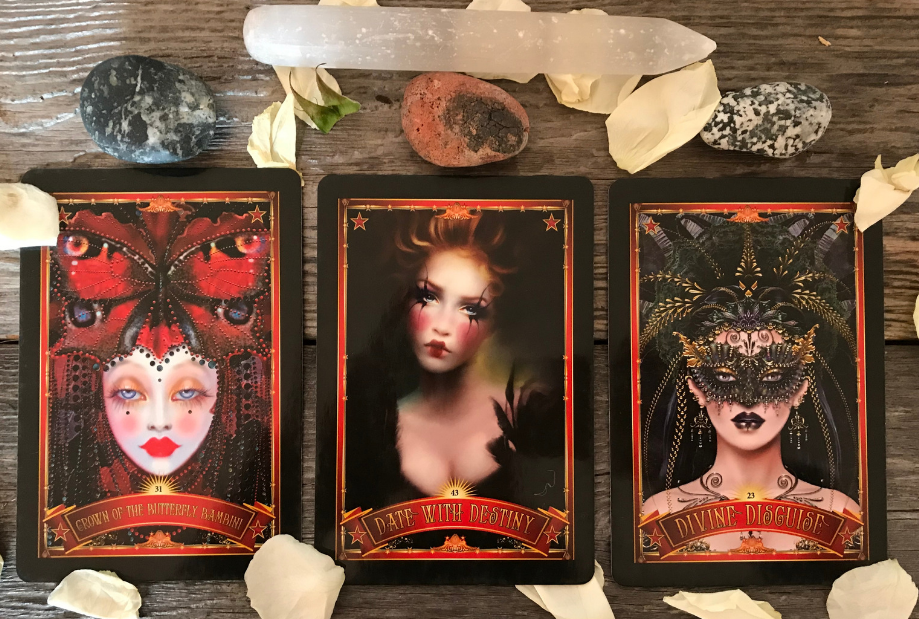 CROWN OF THE BUTTERFLY BAMBINI
Just as nature imbues the butterfly with an innate ability for radical transformation, so too do you have natural instincts within, guiding you to grow in dramatic, utterly life-changing ways.  Progress is your perfection. Growth is your attainment. Do you shun what you have been or mistakes you have made? Or instead, do you wear your ability for transformation as a sacred crown of power?  
Transformation is an ability, an art, a sacred power.  It requires an ability to go through the death of an old self, to be reborn again. That death might be an identity, a lifestyle or career, or an inner sense of self that no longer seems enough to truly reflect who you are becoming.
It requires both strength and flexibility, to be like bamboo, to bend without breaking.  Are you willing to let go of what you have known, who you have been, without judging it, except to understand that you are outgrowing your past and becoming your future in this very moment?  This takes great courage whilst flexibility of mind allows you to believe there are other possibilities in this life beyond what you have already experienced. The strength gives you enough courage to bear the loss of the known and the terror of the unknown, perhaps even turning that terror into excitement for what may be.  
Don't dream small dreams, for you are capable of far more dramatic and colourful creations.  Trust in the magnificence of what you are becoming, the expression of the transformational intelligence and power within you.
DATE WITH DESTINY
Out of the ethers and into your life, she arrives now because you have a date with Destiny.  She is a mysterious creature; her ways are wild and her guidance is true. She may create chaos from which a new order can emerge, but there is no need to fear.  She has come to inspire, uplift and direct you.
A date with Destiny is a big deal.  It is the moment when you realise there is something helping you out, something intelligent, powerful, wise and, no matter how empowered you are, something even more powerful than your own efforts.  All bets are off! Nothing is held sacred and anything can happen. If you are a control freak, this will probably scare you witless! You need to trust Destiny's interventions on your behalf, even if her work seems to be causing your best intentions to go astray.  Trust or go mad because you cannot control her. And you do not need to! Your divine destiny is your best life. It is you in the fullest and most beautiful creative expression possible. It is what you want and need, even when you don't immediately realise it, even when that is rather different to what you once thought you wanted and needed.  
The Universe has heard the prayers in your heart, and life is going to answer them by rearranging what needs to be rearranged to sort out whatever has been troubling you.  Make sure you let it happen. The more you allow yourself to trust in her, the more you will realise that the universe is working with you, rather than against you, and if you are willing, it will show you the time of your life!
DIVINE DISGUISE
Some blessings are obvious – the door that opens, the person who says yes and the instant success of an idea.  But not all blessings are instantly recognisable. Some blessings are so veiled that at first you might consider them to be an unwanted development.  A concealed blessing is either already at work in your life or on its way. Don't worry if you feel like things aren't working out as they should. Soon enough, the disguise will be dropped, and the blessed unmasked in all its beauty.
Blessings are the mysterious workings of the universe, there to help us along our unique life path to live our truths and fulfil our potential.  The universe has the knack of knowing just what it is we need, even when sometimes we might think we need something altogether different. This is how it can be that something we resist and reject in our lives can become the very thing we're most grateful for later on.  We realise it had been a blessing masked, something actually helping us, even though it might have come in the form of a challenge or a struggle before we eventually gain great benefit from it.
The real beauty of a situation isn't obvious to you yet.  But trust and have peace of mind and a realisation that the universe does really know what it's doing.  It's in your corner, on your side, cheering you on and helping you avoid unnecessary pitfalls, even if you don't know they exist.  There is no need to worry, even that which appears to be most troublesome is going to reveal itself to be working in your favour!
Well delicious lovely, wishing you a stupendous week and I have an invitation for you.  Think of the things that nourish you, whether it is playing music, lighting a candle, going for a walk under the trees and do them.  In other words gift yourself with non-negotiable time that will nourish you at your core, your roots! Sending you big hugs and squeezes and sloppy wet kisses! See you next week and most importantly be grateful for yourself and bless YOU!