Happy Marvelous, Magnificent, Momentous, Magickal, Majestic, Mystical, Merry, Manifesting Monday!  How was last night's eclipse for you? Remember this energy isn't just for that one day, it will be burbling along for a couple of months (yes, I did say months).  So remember to continually come back to your intention and to watch where your thoughts go. If you find your mind wandering down the dark alleyway of fear and limiting beliefs, entice it back out into the open with a nice cuppa tea and a choccie biccie!  Yes? But let's talk about the energy of this amazing time. The energy is charged and deliciously delightful, did you know this is the last total lunar eclipse until 2021? Also, that it was visible over most of North America and South America? This is big and the energy is amazing!   Many people are confused as to what a Super Moon, Blood Moon, Eclipse mean. So let's have a look at that.
A Blood Moon is when there is a total lunar eclipse and the moon actually turns a blood red, it is quite amazing to see.  Super Moon means that the Moon is closer to earth than it ever normally is, thus much, much bigger in the night sky. Wolf Moon – this is the name given to the Full Moon in January as it was said that the wolves howled at the moon due to lack of food.  I personally prefer the Celtic story that says:-
"Lleuad Blaidd – Wolf Moon happens in "Faoilleach", the old Gaelic/Irish winter month meaning "Month of the Wolf".  The cold January Wolf Moon lights the path of the hunters, showing them the way. Intuitive and shadowy, the wolf is often connected with the moon and her cycles.  In Celtic mythology, the wolf is companion the fertile white Moon Goddess Cerridwen. Although often associate with war and destruction, the wolf is also linked to ancient mysteries of death and rebirth and guides to positive change.  In Gaelic wolf "Madadh Alluidh" or "Mac-Tire", meaning "Earth's son". Fierce, shy, loyal and cunning the wolf communicates power and leadership to the pack through its eyes, voice and body language.
Now what does this all mean to you?
If you remember Eclipses intensify and bring things out of the shadows and up to the surface.  With this being a super moon and a full moon eclipse things can feel even more intensified.  Now this may linger around until July (to be honest) when we have a partial lunar eclipse. Passions and emotions are going to be heightened to say the least and this is most certainly the moon to work with to get back to your path and the things that bring you joy!  Now if you happen to be at a family dinner and Uncle Edward is a tad snappy and heightened (and no it's not the red wine), let it go. Remember as a human body we are 60% water and a moon like this can move oceans all over the place, so think about your little cells, especially the fact that your brain and heart are 73% water!  Hello! I love what Lena Stevens shares:- "Despite the intensity, it is crucial that you focus on your personal truth regarding your intentions, dreams and desires. Don't get derailed by drama that is not yours and make sure to be around people and in places that you love and feel inspired by. Any prayers during this time will be greatly supported so be generous with them.  What do you have a passion for? Embrace it and put forth your desire to explore it in the adventure that is your life. Include a little gratitude as well for all that you do have and all that is going well.
It is also a good time to focus prayers on how you wish to experience your world. Without judgment, blame or attachment to how it should look (in your opinion), imagine how it would feel everyday if you woke up feeling the inspiration, beauty and joy of a cooperative, compassionate and loving planet.  Put that prayer into your heart and project it like an arrow into the world. There are a lot of things in this world you cannot control, but your prayers are something you can. So pray your very best during this intense and powerful time, not only for yourself but for all your relations.
This is a good time for change, commitment, putting yourself first, expanding your growth, pushing beyond your comfort zone, thinking outside the box and dreaming big. Let's set some good intentions and do it!"
Now if you weren't able to see the Moon, nor celebrate it – don't fret – there is still time, this Moon impacts energy for the next 6 months -ish.  So do your Full Moon release, set your intentions and really harness this energy for YOU!  Remember, this is a year of joy, renewal and creation, so the dust bunnies that hang out in your psyche need to go find a new home!  I personally grabbed a friend and we yomped down to the beach in the dark.  I cast a circle (the second one of this month), called in the directions and lit candles.  We then offered up pain, prayers, praise, passion and purpose as the moon went it's glorious blood red, harnessing this intense energy for self, family, community and globally.  It was amazing!  What was also very cool was that quite a few people had gone down to the beach to watch, yet you couldn't see them in the dark, you could just hear their murmurs mingled with the waves as they offered up their prayers.  Very powerful!  We then yomped back home and had huge mugs of hot tea as the temperature dropped 8 degrees!  I also had all my crystals outside for the night.
Today is Martin Luther King day and why do I bring that up?  If you think about it, he epitomises the energy of focusing on what was important to him, to his family, community and globally and he funneled his energy with laser focus towards making a difference.  Even though others said it could not be done, things couldn't change. Yet he did and he focused on following what was important to him, he was passionate about to following his dream. If you remember he gave a speech in 1963 that is called the "I have a Dream" speech.  What amazing energy that really invites us all to take up a bigger space and to focus on our passions and how they can help, support, inspire and serve others.  Absolutely perfect at this amazing Eclipse time!
Can you feel the energy of renewal, creation and expansion?  The invitation to take up a bigger space? I most certainly can and when I saw cherry blossom and all the flowers popping up – I was like a Labrador puppy, absolutely wiggly with excitement!!!!  
Okay, when I went and asked the cards who would like to share, guide and support this week I giggled out loud when I saw it was The Oracle of Shadows and Light, how appropriate for Eclipse time!  Let me give you a brief intro to your gorgeous guides – "Lurking in the most ordinary places, behind the door, under the floorboards, in the pumpkin patch, and in the great underneath of our cities, dwell some very wise beings who whisper to us, but who we often can't hear amid the noise of our everyday lives.  They will ask you to look at what you may have been afraid of. They will ask you to work with the whole of yourself, for in that way, you will become the unique and amazing individual you are."
The crystals that wiggled and jiggled to come and participate are:-  Black Moonstone – which enhances creativity and connects you to the divine feminine, Stilbite – used for psychic guidance and creativity,  and Moonstone – a healing crystal that manifests peace and harmony with the body and Spirit.  Interesting to see that feathers wanted to participate as well, as they are an element of Air, think about your breathe.  We inhale new and exhale old – food for thought…..
So delicious lovely please gift yourself a moment or two.  A moment or two to just Breathe and BE, this is a powerful release and intention time. Breathe that in. There is a delicious guided visualisation where we do some deconstructing to reconstruct something new, don't fret – work boots aren't mandatory.  
When you are ready, pick the card or cards that resonate for you.
Are you ready?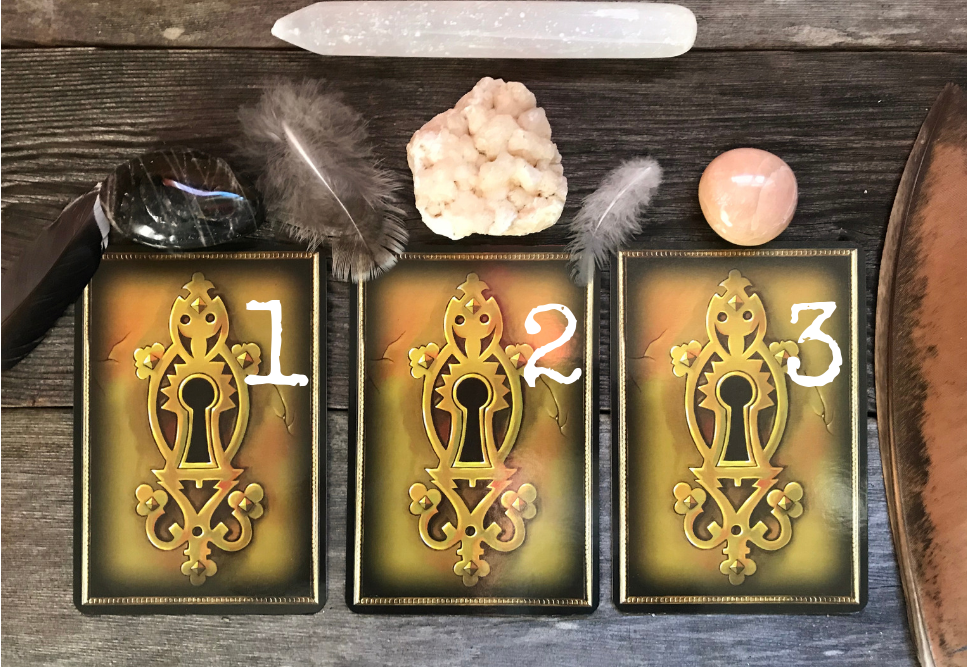 Shall we go have a little look see?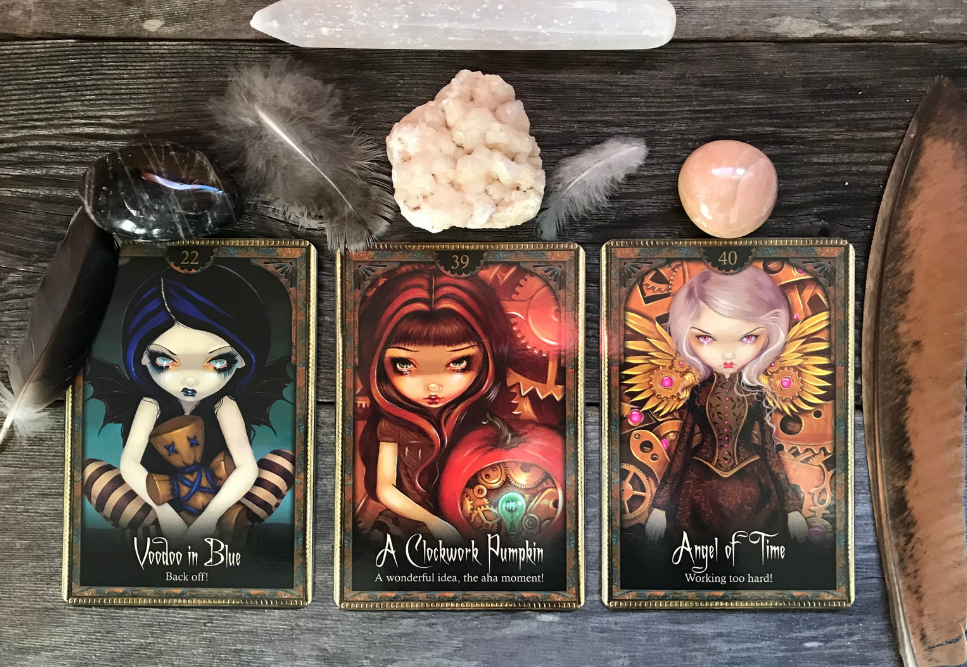 VOODOO IN BLUE
This fairy is letting you know that it's time to back off from a person or situation that is not in your best interests….and that you may need to be brave and stop being so welcoming of what you actually do not want!  So, this blue fairy, waving her voodoo doll, is letting you know very clearly that you now must tell someone to take a step back. You know you have been overriding your instincts with what seems rational, with misguided desire to help and befriend someone who may not be particularly good for you.  
Voodoo in Blue doesn't mind if she looks  bit nasty when she gives the back-off message:  she'd rather she was loud and clear and that the person pushing her buttons leaves quickly.  So, she wants you to start trusting your instincts. To start being honest above being "nice".  
You do feel like you need to stay away from someone – and to tell that person clearly to stay away from you.  And Voodoo in Blue stepping forward to speak with you confirms that your hunches have been ever so right.
A CLOCKWORK PUMPKIN
Notice the bright bulb inside this Clockwork Pumpkin – you are about to have an amazing moment, a brilliant insight, and a very illuminating idea!  Action must be taken immediately, while the idea is fresh and new. No more procrastination – follow the ah moment with action, and watch amazing change in the form of abundance, creativity, and satisfaction take place in your life!
I may look a strange muse, a clockwork pumpkin accompanied by a beautiful girl, but have no doubt:  I am the new idea, the epiphany, the moment of clarity when the seeming chaos of life suddenly rearranges itself into a brilliant opportunity.  You are about to be presented with such a golden idea that I want you to be ready. It may come from within you, or it may come from outside of you, but you have drawn it to you with the power of attraction and manifestation, and it is an idea that will bring you great riches of the body, mind and spirit.  It is time to activate your own brilliant abilities and become the abundant, enriched being you were born to be!
We are so pleased to have found you – we have waited for exactly the right being to take on this idea and bring it to life within the world.  It has evolved out of time, out of space, and is perfect for you. It may be a song, a project, a new job, a relationship – its form is fluid, but its time is now, and you are the person chosen to bring it through.  Cosmic duty it may be, but joy and love it will bring, as well as abundance and true happiness!
ANGEL OF TIME
The Angel of Time looks very fierce and stern, and that's because you need to hear her message.  You see, if she appeared to you in a soft guise, it would be too easy for you to overlook her message and just continue on as if she had never visited.  The truth is that you are forcing yourself beyond your energetic limits at this time – working too hard, self-loving and connecting with the Universe way too little.  
So, she has appeared to remind you of what it is you are turning your world into: one big machine, where you are one cog in it.  You are an important, soulful, beloved being, but the world of world of work is not going to end if you step away from its mechanism for a while.  "It is time," she says, "for a time out!" Will you listen?
"I'm getting straight to the point here, because someone really has to tell you.  Stop giving so much to your work. All your time. Your energy. Your passion. Take better care of your health.  This is the time to fulfill all those promises you've made to yourself but barely made even the effort to keep. Meditate, eat well, take up gentle exercise, and change unhealthy emotional patterns that are compromising your well being – these are the challenges you need to set yourself.  I thank you in advance, for a happy you makes this world a far better place.!"
Well I don't know about you sweetie.  But those are very clear messages and the absolutely perfect ones for this Eclipse time!  So wishing you a stupendous week filled with remembering that you are an incredible, amazing, powerful beastie.  So harness that energy and step into your life with bells on. "May you be Happy, May you be Safe, May you be Healthy, May you be at Ease.   Sending you huge hugs, squeezes, and cherry blossoms!