Hello delicious lovely, happy Magnificent, Marvelous, Magical, Mighty, Manifesting, Majestic, Mindful, Mesmerising Monday!  (Have to love the letter M lol). Did you know that in Egyptian writing, its ideogram is derived from the character for water, which explains why it's so gracefully written. In terms of Roman numerals, it represents the number 1000?  I really quite like the idea of the Egyptian ideogram and the letter "M".
I don't know about you but for me this last week has been an interesting weave of ups and downs and really having to manage my energy carefully as there has been someone around me who is sooooo self absorbed, rude, narcissistic and an energy vampire – it's been most interesting to watch and very peculiar to experience.  But later in the week, with the holiday season starting to roll in, we will talk about energy management and how to keep yours and mine clear, clean and strong.
The other week a few people talked to me about ritual and what I found interesting was their thought that it was highly complex, time consuming and that you needed multiple "special" tools for it.  Hmmmm, I don't agree with that. Sure you can make it that way if you would like, and there are certainly times that you really want to make it super duper special, but for the day to day it doesn't have to be that way.  So let me share with you how I view and interpret the word "Ritual" and what it means to me.
To me a Ritual is intention made manifest, it's that place of connection with the Divine, Universe, God/Goddess or however you chose to name it.  In other words, a ritual takes an idea, thought or emotion and gives it a physical form in the world. So for example when I invite or suggest that perhaps at certain times there are things that you might want to write down, release and burn – guess what?  That's a ritual. When you sit down at New Moon and write your wishes/intentions out, guess what? That's a ritual. All it took was a brief moment of time, paper, pen and something to light either a candle or the paper with.
To me ritual allows your body, your cells, you essence to understand your intention.  Does that make sense? So what makes a mundane activity into a ritual is your consciousness while doing it.  If you are smudging yourself or home, what is your intention? If you are having a salt water scrub shower or bath, what is your intention?  When you light a candle every day when you walk in the door, what is your intention? Remember energy follows intention and attention follows energy and actions follow attention.  Thus, a ritual can be a celebration such as the upcoming Thanksgiving in the States or it can be a practice which can be repeated daily, monthly or yearly. When ritual becomes a practice this allows us to go deeper, to explore all the various nuances and of course as we all know – repetition leads to mastery (think of that daily meditation, exercise, journaling etc).
Here is an example; since being guided, led and pushed by the Universe to head off on an adventure and move to somewhere that I didn't know, leave my home, dogs, kids etc and then having the landing being so incredibly bumpy with all sorts of drama llamas playing out.  I felt rootless.  That is not a feeling that I enjoy, nor one that makes me feel safe, secure and at ease.  Thus, when I found my little nest in a gorgeous locale I set the intention of community, connection and roots.  Great intention right? However, I took that intention and turned it into ritual and then into a daily practice and made a commitment that I would "do" this practice for 40 days.  Thus, every morning I would bound out of bed, rain, wind or shine and I would do a loop into the massive park nearby, down onto the beach and walk by the ocean and when a rock called to me I would park my arse on a wet driftwood log and offer up my prayers, my blessings and whatever else needed to come up.  Then I would pop the rock into my pocket, loop back home and drop the rock in a bowl and say thank you. Now doing this has introduced me to a plethora of people that live nearby, I have been invited for tea, had great conversations and have helped two of them with lifting heavy items! Talk about community.  Now keep in mind I committed to 40 days and there was no way I was going to miss one as if I did, I had to start again. Well, I didn't miss a day, nor did I give up at the end of 40 as this glorious daily ritual feeds my soul, my body and my mind. I now have 49 rocks in my bowl. I guess what I am saying is ritual is easy.  Set the intention, let the energy follow it, then the attention, but the key piece is action!  
Now let's talk about Mercury retrograde shall we?  (No, don't go running to the closet to try and hide!)  Mercury went retrograde on November 16th and this is the last and final Mercury retrograde for 2018 (thank goodness!)  Now as the retrograde happened in Sagittarius there is a lot of heat and fire to this baby. In other words with all this hot headed energy flying around, choose your words carefully.  Sagittarius loves to turn up the volume and can be very blunt and loud mouthed, thus with the retrograde happening it can make everyone doubly tactless. So remember to watch your words carefully and try not to go dashing down the hot headed rabbit hole that may be sending sparks off all around you – especially if you are celebrating Thanksgiving!
To all my American friends, Thanksgiving is coming up this week and I hope you take time to just BE, Play, be Thankful and Feel.  For some people family holiday celebrations can trigger all sorts of stuff, some great and some rather challenging.  So remember to take the energy of the Full Moon that happens at the same time and just get clear about how you want to feel and what is okay for you.  Energy Management! Okay, I do have to ask what's with the Black Friday Sale thing? I appreciate a good deal, but I went once to a store in the states on Black Friday and it was insane!  People were pushing, shoving, being rude all for $100 off of an item they wanted. Totally terrified me and have never gone to a Black Friday sale in person again. With that being said I do wish you all a marvelous Thanksgiving filled with family, gorgeous food, connection, joy and big laughter and remember Gratitude!
The Full Moon is on Thursday November 22nd and this full moon is in Gemini and called The Beaver Moon.  Now what is the energy of this wonderful moon?  "The full moon in Gemini delivers the goods in terms of versatility. That's because this lunation is ruled by none other than Mercury—the messenger of the gods himself.  This full Moon is all about action and change. Will you choose remaining stagnant in the cycles of your past or will you be consciously moving forward by enriching your spiritual blessings? As we move in step with the coming end of our calendar year, we choose enrichment of spiritual blessings or remain stagnant in our past.
Suddenly life is moving at an accelerated rate and be prepared to keep up with it during this full Moon until the next full Moon in December.  Be flexible and not so rigid with your thoughts or actions. This full Moon is about leaving behind the noose of old habits, patterns and broken dreams.
Here is an appropriate quotation from President John Kennedy who passed 55 years ago November 22. "For time and the world do not stand still. Change is the law of life. And those who look only to the past or the present are certain to miss the future."  Think on this quotation.
What has been cannot be changed and it is time to let it go, while we lean forward to embrace all that lies ahead.
The lesson, energy and influences of this full Moon helps us to create a new legacy and to finally free ourselves from all obstacles, barriers and blocks that prevent our individual prophecy and birthright."
Well that is certainly an interesting Full Moon to accompany Thanksgiving don't you think?
The cards that wiggled and giggled to come support this week are The Divine Circus Oracle, which made me laugh and nearly snort tea out of my nose!  Of course they would come, especially as we may be rubbing up against people that we love but sometimes find quite challenging to be around. Now, if you have never worked with this deck before let me give you a brief introduction – "This deck is for those who find it hard to follow rules, conform, bend to authority and generally 'do what they are told.'  May your rebel heart always be bold. May your spirit always be free. My you remember to live the Divine Circus and have fun doing things the way you aren't supposed to, whilst living your most creative and unique divine destiny."  The crystals that came to play are the ones from the beach, the gorgeous rocks that I pick up every morning and bring home to their beautiful bowl.  And of course some delightful rose petals and Selenite to amplify.
Thus, I invite you to take a pause and a moment for yourself.  Just BE and as you breathe in a lovely deep breath resonant with giving Thanks/Gratitude and as you breathe out through your open mouth release the past, the old, the worry and tension.  Breathe like that for a few lovely, luscious breaths and when you are ready ask for the guidance that you need this week and then pick the card or cards that resonate for you.
Did you remember to pick?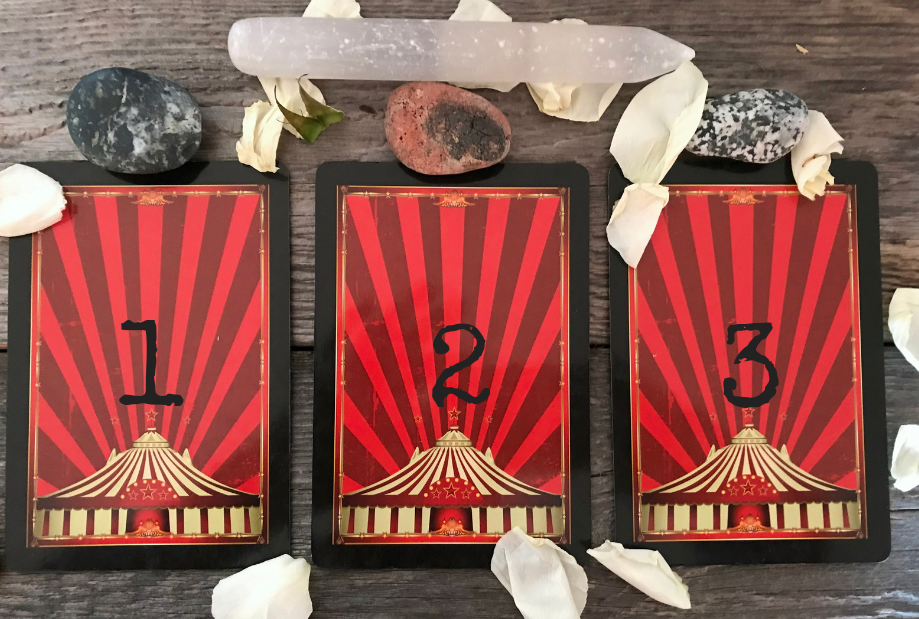 Let's go have a little look see, shall we?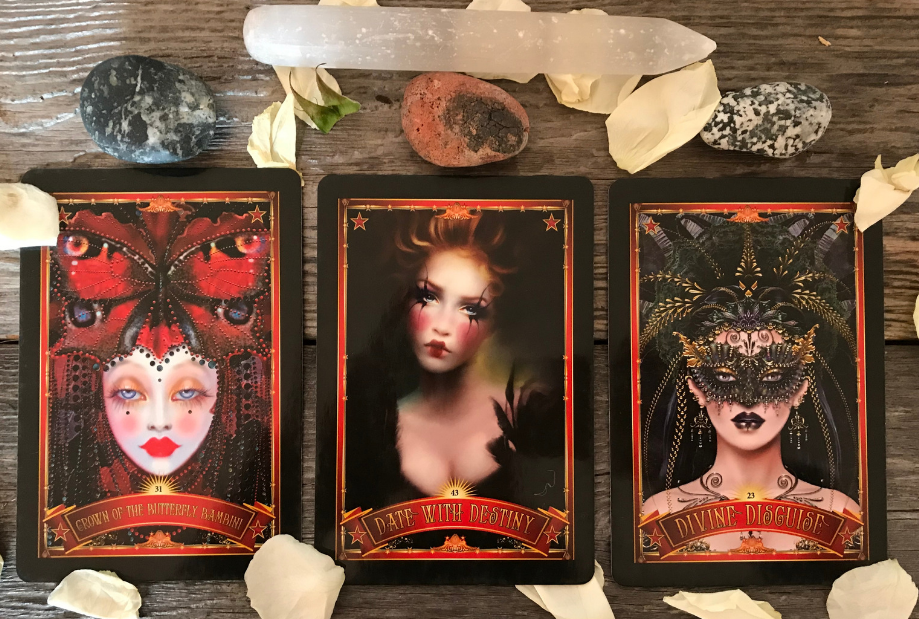 CROWN OF THE BUTTERFLY BAMBINI
Just as nature imbues the butterfly with an innate ability for radical transformation, so too do you have natural instincts within, guiding you to grow in dramatic, utterly life-changing ways.  Progress is your perfection. Growth is your attainment. Do you shun what you have been or mistakes you have made? Or instead, do you wear your ability for transformation as a sacred crown of power?  
Transformation is an ability, an art, a sacred power.  It requires an ability to go through the death of an old self, to be reborn again. That death might be an identity, a lifestyle or career, or an inner sense of self that no longer seems enough to truly reflect who you are becoming.
It requires both strength and flexibility, to be like bamboo, to bend without breaking.  Are you willing to let go of what you have known, who you have been, without judging it, except to understand that you are outgrowing your past and becoming your future in this very moment?  This takes great courage whilst flexibility of mind allows you to believe there are other possibilities in this life beyond what you have already experienced. The strength gives you enough courage to bear the loss of the known and the terror of the unknown, perhaps even turning that terror into excitement for what may be.  
Don't dream small dreams, for you are capable of far more dramatic and colourful creations.  Trust in the magnificence of what you are becoming, the expression of the transformational intelligence and power within you.
DATE WITH DESTINY
Out of the ethers and into your life, she arrives now because you have a date with Destiny.  She is a mysterious creature; her ways are wild and her guidance is true. She may create chaos from which a new order can emerge, but there is no need to fear.  She has come to inspire, uplift and direct you.
A date with Destiny is a big deal.  It is the moment when you realise there is something helping you out, something intelligent, powerful, wise and, no matter how empowered you are, something even more powerful than your own efforts.  All bets are off! Nothing is held sacred and anything can happen. If you are a control freak, this will probably scare you witless! You need to trust Destiny's interventions on your behalf, even if her work seems to be causing your best intentions to go astray.  Trust or go mad because you cannot control her. And you do not need to! Your divine destiny is your best life. It is you in the fullest and most beautiful creative expression possible. It is what you want and need, even when you don't immediately realise it, even when that is rather different to what you once thought you wanted and needed.  
The Universe has heard the prayers in your heart, and life is going to answer them by rearranging what needs to be rearranged to sort out whatever has been troubling you.  Make sure you let it happen. The more you allow yourself to trust in her, the more you will realise that the universe is working with you, rather than against you, and if you are willing, it will show you the time of your life!
DIVINE DISGUISE
Some blessings are obvious – the door that opens, the person who says yes and the instant success of an idea.  But not all blessings are instantly recognisable. Some blessings are so veiled that at first you might consider them to be an unwanted development.  A concealed blessing is either already at work in your life or on its way. Don't worry if you feel like things aren't working out as they should. Soon enough, the disguise will be dropped, and the blessed unmasked in all its beauty.
Blessings are the mysterious workings of the universe, there to help us along our unique life path to live our truths and fulfil our potential.  The universe has the knack of knowing just what it is we need, even when sometimes we might think we need something altogether different. This is how it can be that something we resist and reject in our lives can become the very thing we're most grateful for later on.  We realise it had been a blessing masked, something actually helping us, even though it might have come in the form of a challenge or a struggle before we eventually gain great benefit from it.
The real beauty of a situation isn't obvious to you yet.  But trust and have peace of mind and a realisation that the universe does really know what it's doing.  It's in your corner, on your side, cheering you on and helping you avoid unnecessary pitfalls, even if you don't know they exist.  There is no need to worry, even that which appears to be most troublesome is going to reveal itself to be working in your favour!
Well delicious lovely, wishing you a stupendous week and I have an invitation for you.  Think of the things that you do that nourish you, whether it is playing music, lighting a candle, going for a walk under the trees and give it the energy of a ritual.  In other words, set an intention, let the energy follow it make it a conscious action. Also, no matter if you are in the States and celebrating Thanksgiving or live somewhere else, play with the energy of this wonderful Full Moon and give thanks and bless everything that is in your life.  In my morning practice I always say " I bless everything I have and I bless my increasing good and good fortune" and then I start listing them. So I might say "I bless my bed and the cosiness of it and I bless my increasing good and good fortune, I bless the sun filtering through the autumn leaves and I bless my increasing good and good fortune."  Yes? Give it a try and really think of everyone and everything that could do with a blessing. At the full moon take some time to write down the things, or aspects, that you are ready to release, then burn the list and allow it to become compost. Play with it and see how you feel. Sending you big hugs and squeezes and sloppy wet kisses! See you next week and most importantly be grateful for yourself and bless YOU!