Happy Magickal, Marvelous, Memorable, Magnificent, Manifesting Monday delicious lovely!  Whoot! Whoot!
How was the watery Harvest Full Moon for you?  Did you do some releasing? I found it rather bizarre as on Friday morning I found myself feeling rather emotional and very "tweaky", so much so that the mantra "Fuck this, I'm not impressed", was running through me head!  As I felt it really start to swell and rise to the surface I pitied anyone that I would encounter lol. Thus, I took myself outside, sat on the grass under a tree and just let it all pour out and become cosmic compost for the huge roots of the tree.  Phew! Humanity was safe! So if you found yourself feeling rather emotional and tweaky, don't fret, and if you still are having remnants of that fluttering around you – go find a lovely strong tree, give it a hug and tell the tree everything and let it wash down into the earth.  (Works, trust me!)
This weekend I went to a Mind, Body, Spirit Expo (having never been to one before) and it was quite interesting.  There were all types of vendors and workshops going on and you could find everything from crystals to hypnotherapy and body scanning.  I was turned off a tad as a gentleman barged up to me as I was browsing and very bluntly said "I bet you don't know your soul purpose and for $300 I can tell you everything you need to know."  Ummm, hmmmm, well this is a tad presumptuous, so my response was "Actually I have a really good grasp on what my Soul Purpose is thank you and I live it, work with it and embrace it daily." Cheeky chap!  So as I left the Expo it reminded me of the theme of this month "Commitment".  How are you doing with that?  Have you decided what you are willing to Commit to for YOU?
Fall Equinox is coming on Monday September 23rd.  I love, love, love this Equinox!  (Did I say I love this Equinox?) My body responds to the change in the season, the cooler weather and the sense of a reset button and harvesting.  I find it quite a magickal time and most certainly practice ritual and give myself time to celebrate and welcome the new energy into my being, my home and my work.  I always remember when I was a kid going with my Great Aunts and harvesting flowers, squash, turnips, kale, apples, pears and a myriad of other fruit and veggies which we would then take and decorate the tiny little stone church in our little village in Yorkshire.  It was amazing and made the little church look like the cutest and most organised Farmer's Market you have ever seen!
As my birthday is the day before Mabon I have a gift for you.  I want to gift you something to really help you really tap into and harness the energy of Mabon (Fall Equinox) and embrace the energy as we shift into it.  Thus, I am putting together some rituals, a spell or two and a lovely guided visualisation which will come to you on Friday. I'm calling it the Mabon Magick Manual lol. (HA!  We are working with the letter M again!) So do make sure you are on the email list so that you can receive it!
Okay, let's crack on with the reading for this week.  When I went to the cards and asked who would like to guide and support this week I was tickled to see The Divine Circus Oracle were most adamant as they are clear they have something to share.  Now if you have never encountered these lovely guides, please let me introduce you:-   "What is life if not a Divine Circus?  Life might seem ordinary at times, yet when we look more closely, it is bursting with creative diversity, constantly evolving, pulling rugs out from underneath our feet (usually just at the moment we think we have everything under control) and opening doors we couldn't even see were right there before us  moment earlier. Life is magical, thrilling, sometimes strange and even scary. It can inspire you and touch your soul, inviting you to discover the unique magic within you, to dare to live it, to express it, to play with possibilities and embrace what sets you apart from the crowd."
Interestingly enough, when I asked the crystals who would like to join in, the shells were very loud and pushy, which if you think about it makes total sense as we are still in the waves of the watery Full Moon in Pisces.  So we have some glorious shells to accompany the guides and the nasturtiums in the garden (along with fennel) wanted to add some autumnal feel to it all.  
Ready?  I invite you to take a moment from the hurly burly of the day and just get present and in your body.  Breathe your way back into it fully and as you breathe invite the thought of Harvest into your mind's eye.  What are you willing to harvest this season? What are you willing to release this season to have an abundant harvest?  Let this question perk for a bit and just BE with it. There is no right nor wrong answer. Then, when you are ready; pick the card or cards that brush alongside your mind like a warm autumnal breeze.
Did you remember to pick?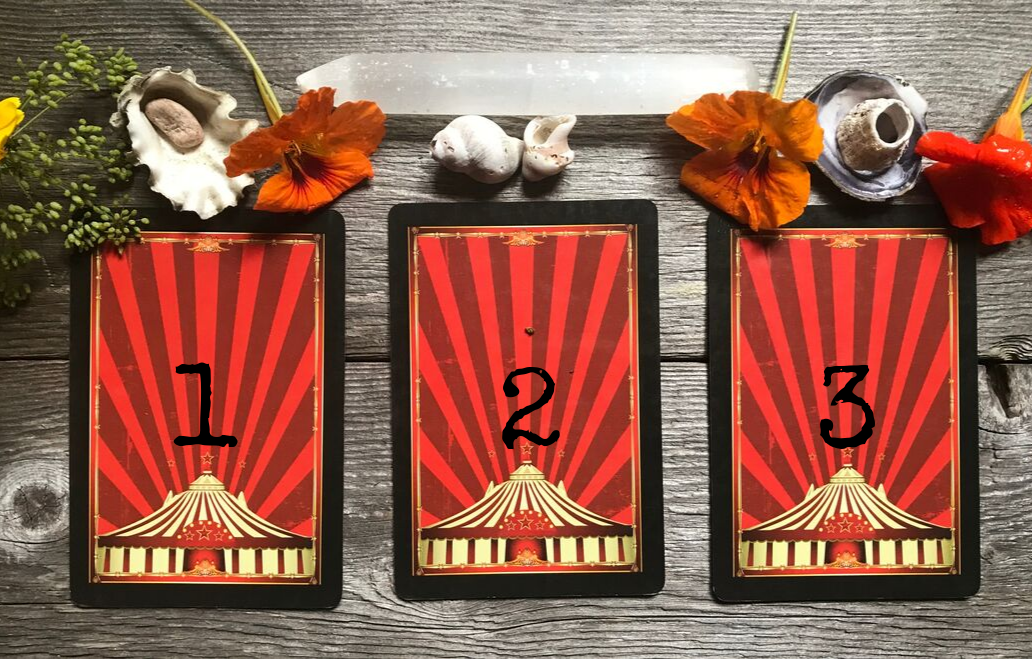 Shall we go have a little look see?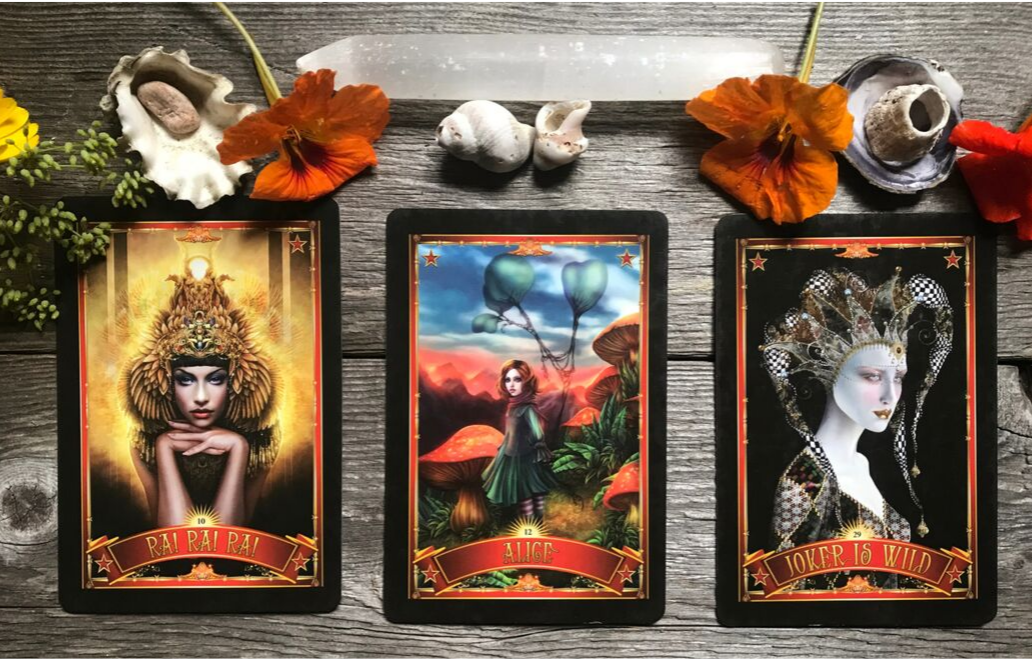 RA! RA! RA!
Have you had enough of the dark side of life?  Fear doubt, uncertainty, anxiety, frustration and believing that you cannot manifest your dreams are signs you've been in the darkness for too long.  It's your time to step out of the darkness and into the light.  
It takes a lot of courage to leave darkness behind and embrace the light.  To step into the light means that you give up attachment to drama, the stories of suffering and the pain of the past.  You don't deny your struggles or your pain, but you know it is possible to let it go in favour of trust, reassurance, comfort and commitment to what holds meaning for you, again and again and again, for as often as needs be until you are free.
Sometimes the courage of stepping into the light means a willingness to set aside the mental anguish and say, "Today I just choose to trust that everything is going to work out according to a higher and unconditionally-loving divine plan that has my best interests at heart."  It means that you acknowledge what you have gone through without needing to keep score. 
Like the sun cracking through the night to bring the dawn of a new day, this is your divine wake-up call.  Your dark days are numbered and your time in the divine spotlight is upon you. Be willing to shine your light, even if no-one else around you seems to understand, acknowledge or recognise it at first, or even for a long time!
ALICE
New worlds are calling you forth where the old rules don't apply.  It might seem strange, or freeing, or wild, or even scary at first, but you are meant to explore these new worlds.  You will gain so much from the experiences. There's no need to be afraid.
When your world becomes too small for your spirit, it can feel painful, like trying to walk about in shoes you've outgrown.  If you do this for too long you can feel crippled with pain and unable to walk at all! You have a spirit that is outgrowing the worlds you've known and is yearning to experience new ones.  The Universe is responding to your spiritual need to broaden your horizons with new friends, opportunities and communities that are, or soon will, become available to you. You may welcome the unfamiliar, or you may find it intimidating.  You may wonder if you belong in those possibly strange new worlds, or you may feel like you've come home. No matter whether it is just another world you are meant to pass through on your life adventure, or a return to a true soul family you never knew you had, there is value in this next phase of your life path.  It is essential to your overall plan and divine destiny.
Follow that which is novel or unusual, that which seems to take you into new worlds, rather than making do with what already has been.  Following those initial inspirations will open doors for you and gain you entry into entirely new and exciting worlds. You are ready for the adventure, whether you know it or not.
JOKER IS WILD
The Universe has a sense of humour, but never at your expense.  It is laughing with you, not at you. You'll see this for yourself as the Joker weaves her magic in your life, bringing you the grace that is beyond all reason, the necessary ingredient to ensure you win with the hand you have been dealt by life.  There's nothing impossible when the Joker appears. Her wild ways can transform a losing streak into a lifelong love affair with Lady Luck.
Strap yourself in and prepare for the ride of a lifetime.  The Joker has come to you and the Joker is wild. Unpredictable and brilliant, she brings you a message.  You are being empowered to overcome all odds. So you are going to win. No doubts, no dramas, but not necessarily in a way that you expect either!  She is sending the best possible situation to you even now. It might startle you, like a sudden light in the middle of the night, but it will be welcome nonetheless.
You probably won't see it coming.  It will probably be in a way that subverts everything you once believed to be true.  But it will be a welcome trick by the Universe, a loving joke that opens your heart and helps you realise that this vast impersonal universe personally knows and cares for you, so intimately and with such meticulous care.  Just don't expect to feel in control of the process, for the Joker is wild and moves according to her own genius, but always blesses you with what will work best, beyond compare, now and always.  
Yummers!  What fabulous cards for this post Full Moon and pre-Mabon!  How did your card/s feel for you? I'm so tickly wiggly excited about Equinox coming and putting together your Mabon Magick Manual!  Have a wonderful week, breathe in the cooler air, laugh as the leaves start to gently fall to the ground and smile like a big happy faced sunflower!  Have a superb week and see you next week. Don't forget if you know of someone who would benefit from the Mabon Magick Manual, let them know. Huge hugs and big cups of tea!