Happy Marvelous, Magnificent, Magickal, Miraculous, Magnanimous, Majestic, Manifesting Monday delicious lovely!! How did you do with the first eclipse of the season (we have another one coming up next week). Did you take some time to play with planting the seeds of New Moon wishes?

As most of you know, I was sick for a while with the gorgeous bugs that are floating around, and started to surface last Monday and of course decided that in one day I should try and do everything that I has missed out on for a week. Bad plan! It threw me back to nearly square one! Grrrrrrr. Now, I don't know about you but when I get sick (which isn't often) it can make me really grumpy and explore some deliciously dark pockets and start to want to hang out with Eeyore!

So last week I decided to actually pay attention and let life unfold slowly and do things that nourish and recharge me and shift my energy. This was a tad challenging for me, as it put me behind the eight ball with readings, coaching and all the rest of things that I love to do, however, the message was super clear – play, rest and self care. Thus, I allowed myself Tuesday, Thursday and Saturday to go out into the woods and as my glorious friend Renee calls it "forest bathing". Slowly I could feel my body start to build up and energy drip in, even though my mind was telling me how many things I "should" have been doing and all the things that were outstanding. But seriously, self care and nourishing oneself is vital!

Part of my self care time was exploring WOTY (Word of the Year) and reading.  Now if Word of The Year is new to you, let me tell you it is frigging amazing!  I happily released New Years Resolutions and have been doing this for nearly 13 years.  Great Jenny, what the heck is it? It's finding the word that really resonates through every aspect of your being and letting it become your touchstone for the year as you move through work, life, family, exploring and growing.  I first learned this process from Christine Kane, and if you would like to download her workbook and find out more about it, you can right here.  Can one word make a difference?  Heck Yes!

This year, for 2019 my word is "Possibilities". We are so often taught that there aren't possibilities (which feels constricting) or that there is possibility A or possibility B – bullshit! As Pam Grout shares in her books – to live and work with the Divine/Universe there are infinite possibilities!!! I am so all over all the glorious and gorgeous Possibilities that abound and not constricting myself to either there aren't or there are only two! So what's Your Word of The Year? What calls to you and invites you to be bigger, clearer and bolder?

The other part of my self care was reading and currently one of the books that I am reading is "The Complete Book of Witchcraft" by Raymond Buckland.  Fascinating! I love reading about the Old Religions, the ones that have been here for thousands upon thousands of years and then I hit a paragraph the other day that made me chortle and so I'm sharing it with you.  As I don't know about you, but personally I don't need anyone, or any institution to tell me when I can have sex!

"The early Church was extremely harsh on its people. It not only governed the peasants' way of worship, but also their ways of life and love. Even between married couples, sexual intercourse was frowned upon. It was felt that there should be no joy from the act, it being permitted solely for procreation. Intercouse was illegal on Wednesdays, Fridays, and Sundays; for fourty days before Christmas and a similar time before Easter; for three days prior to receiving communion, and from the time of conception to fourty days after parturition. In other words, there was a grand total of approximately two months in the year when it was possible to have sexual relations with your spouse…but without deriving pleasure from it, of course! Wow! Well that is certainly one method of birth control to say the least! I wonder if all children were born around the same time?

As we are just literally 2 weeks into this New Year and we explored last week that this is a 3 year, one of Creativity, Joy and Renewal and also the energy for this month is Cleaning it Up. There is another facet, this is a Year of Sunshine! Why? If we look at the 19 card in the Tarot it is The Sun card! And as Biddy shares:- "The Sun represents success, radiance and abundance. The Sun gives you strength and tells you that no matter where you go or what you do, your positive and radiant energy will follow you and bring you happiness and joy. People are drawn to you because you can always see the bright side and bring such warmth into other people's lives. This beautiful, warm energy is what will get you through the tough times and help you succeed. You are also in a position where you can share your highest qualities and achievements with others. Radiate who you are and what you stand for; shine your love on those you care about.

The Sun connects you to your power base – not fear-driven, egotistical power, but the abundant, inner energy radiating through you right now. You'll sense it in your Solar Plexus chakra, calling you to express yourself authentically and be fully present in the world around you. You have what others want and are being asked to radiate your energy and your gifts out into the world in a big way. Tap into your power and use your Divine will to express that power in positive ways."

So holy hannah, if you haven't picked up by now, this is a delicious year and yes, there are shadows and challenges and to really shine you need to be able to see the shadow. But Wowzer, so let's look at playing Small!

If you turn on the news, read the papers or buy into a lot of the crap that is floating around there is a litany of reasons why you should become smaller and contract and constrict yourself. Right? After all things are rigid and "this way". There are so many messages out "there" that advise us to become smaller and smaller and take up less space energetically, but what if that is the wrong way to go? What if, instead, we became bigger and bigger and more of our authentic, true, vulnerable, open selves? What would that look like? Life isn't rigid, if we look at the cell alone it has a wall that is semi-permeable, so it can always change, it's not fixed. It's not locked into "this is the way I have to be". So stay with me for a moment as we briefly glimpse at that – if every cell in your body is semi-permeable and can change with the influences that it is fed, then why can't you? After all you are this composite of cells that can get bigger and more vibrant and expand. Will you? With the energy that is flooding around for this year about Creativity, Joy, Renewal, Sun, Expansion – are you willing to breathe into the space of playing a bigger game, taking up more delicious space and really sharing who you are? Love more, share more, BE more, talk more, be quiet more, create more, help more……. I hope so!

I heard a fabulous quote yesterday "Love measures our stature: the more we love, the bigger we are. There is no smaller package in all the world than that of a man all wrapped up in himself."
Read that again please.  You are not a small package, you are a glorious big parcel with bows, bells and bedecked like no ones' business, so how about sharing that?  After all, why not step out on the limb of life and be willing to be a little uncomfortable and be willing to play with a lot of living, loving and joy!

Wow, I have chuntered on!  Okay, let's crack on. The cards that danced with delight to come and play on this glorious light filled day are "The Lightworker Oracle".  These are gorgeous guides that connect with divine light, help us accelerate our spiritual evolution and develop a connection with a higher spiritual guidance.  Whether you are just beginning or have been on a conscious spiritual path for some time, these guides will help you open up to the unconditionally loving higher spiritual worlds, walk the path of healer, lightworker or spiritual mentor for others on the path.  

The crystals that were adamant that they wanted to come play are:- Red Snowflake Obsidian – which is great for bringing things to the surface, Fire Agate – will light up your Spirit, Sodalite – a stone of truth. Oh yes, and the little tiny pansies (with their happy faces) and snowdrops came to play as well. Don't fret, they are all in a glorious egg cup receiving water and tenderness.

So delicious lovely, let's breathe into the energy of expansion and being a tad bigger. I invite you to take a moment to just BE and breathe. As you breathe the glorious are in through your nose see your cells, your being, your aura, your dreams expanding and as you breathe out – see anything that is inhibiting that dispel. Keep breathing this way for a few lovely breaths and then when you feel centred, settled and grounded ask gorgeous wise inner self – what would it look like, feel like to take up more space and BE bigger?

Ready to pick?
Shall we go have a look?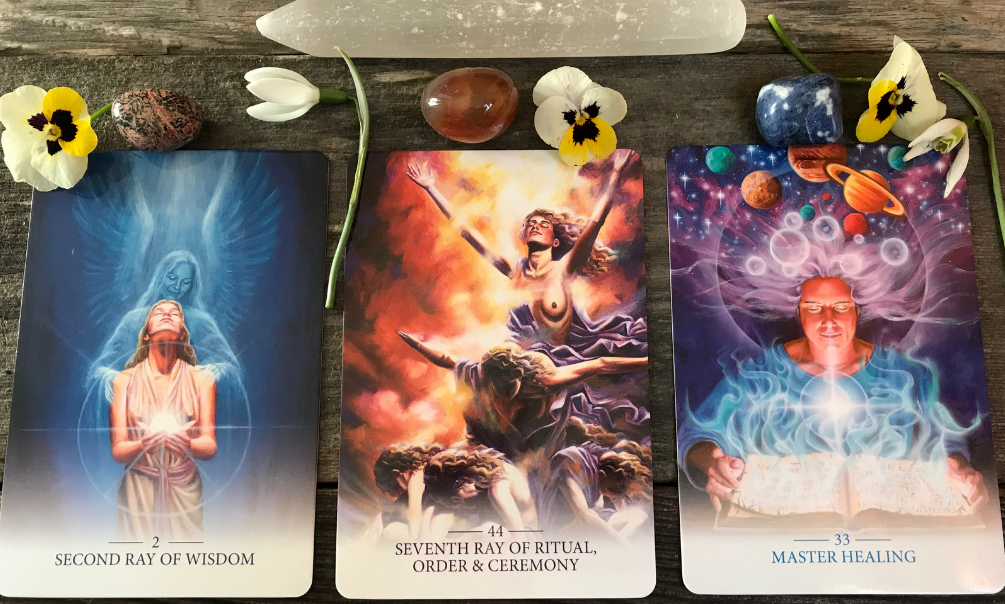 SECOND RAY OF WISDOM

The Second Ray of Wisdom is a consciousness of loving wisdom straight from the heart of the Universe. It amplifies the magnetic power of attraction, empowering you to pull into your life ll that is needed for your life's work. It brings the opportunity to heal, restore and understand through the power of love, and the light of ancient wisdom. The spiritual master known as the Buddha is with you, now, to help you fully receive and integrate the blessing of this ray of light from the Universe.

This is the energy of the open and loving heart of the Universe. It is inclusive, drawing all things towards it with an invisible magnetism. It is gifted to you t this time to help you attract into your life the people, opportunities and teachings that will help you succeed in your life mission.

The challenge with this ray is that it is so magnetic and attractive, is learning to discern and say "no" when you need to. Imagine a fisherman who casts a very wide net and catches most of the ocean in it! Not everything is useful or even desired by the fisherman. While some things are gratefully accepted by the fisherman, other things are best returned to the ocean where they belong.

Being able to trust in future abundance is important. You will not need to hold on to every opportunity, person or situation out of fear of loss or lack. Instead, you are learning to live in true abundance and flow. Practise feeling comfortable in letting go, as well as receiving. Trust that the Universe has all that you want and need in unlimited supply. The Universe will truly provide for you dear child of light.

SEVENTH RAY OF RITUAL, ORDER AND CEREMONY

When the gift of the Seventh Ray enters your life, something new is being formed, something that will benefit your world. There may be an increased interest in magic, ceremony and ritual for healing purposes. Resonating with high frequency violet light and the Archangel Zadkiel, the Seventh Ray also helps transmute energy from the lower to higher frequency. It is a spiritual cleansing agent that allows the truth of spiritual freedom, empowerment and choice to be seen and felt, restoring hope and joy to the heart.

The Seventh Ray is the push and pull between the old and new – the life that has been can no longer continue in that form, and the new life that wants to evolve from the old. It honours traditions and ancestral wisdom that serve new life. You are asked to balance your attachment to what has been with an openness to the new. It is a time to fearlessly question what has been, honour what continues to hold value for you and dismiss what no longer serves you.

The Seventh Ray also creates form from invisible, intangible spiritual energy. These are the inspired solutions and synchronicities that seem to come out of nowhere. They are signs of the divine order happening. The Seventh Ray brings an alignment with that divine order, and the more you are willing to invoke nd allow that energy to bless you, the more your life will align itself with the genius of creativity, solutions and loving opportunities the Universe wants to bring to your world.

The gifts of ritual, order and ceremony are ways to attract this energy. Conscious ceremony, done in service to unconditional divine love, feeds a need for sacred embodiment. It is the hunger with the soul that many seek to feed through religion – and others through the less conscious rituals of addiction. Ritual can be something that keeps you stuck, or opens you to the sacred.

The gift of the Seventh Ray is the ability to live as an embodied, divine presence. For humans who don't trust or even recognise the love of the Divine in their hearts as yet, those who do are are great supporters. Use loving ritual to invite divine presence to fill you and your life. Use your consciousness to clean up your own energy field and the energy field of the world around you, so the Divine can show its face more clearly. The comfort of this can help free all beings from anguish and suffering.
MASTER HEALING

As you meditate, remain true to what inspires your heart and commit to your spiritual path, you become an increasingly powerful healer. You are here to live your own life, to be true to what genuinely moves you. The unconditionally loving guide and Ascended Master Serapis Bey comes to you now with a blessing of master healing to further your path.

You are asked to tune into your heart. What do you love enough to overcome any obstacle to attain it? What motivates and inspires you? Not what seem possible or practical, but what is authentic? We are most powerful when we serve authentically from the heart. A bird might learn how to dive under water from time to time, but it is never going to be its most powerful if it has to live underwater. It would struggle to thrive if it were to force itself into such unnatural expressions of its life energy. The bird yearns so fly because that is its divine nature and purpose. You too have divine nature and purpose, and your heart holds the clue. What feels most like you?

It is difficult to access the truth of our own nature when we believe we should live up to the expectations of others. If we are attached to an outcome or afraid of an answer, we can unintentionally block our perceptive faculties – a spiritual version of sticking our fingers in our ears and shouting, "blah, blah, blah!" The blessing of Serapis Bey includes his clear flame of divine cleansing light. This can assist us in letting go of whatever blocks us from knowing the truth of our nature.

When we are willing to be who we are, the Universe can more easily guide us to fulfil our destinies, Serapis Bey will help you see yourself truthfully. You my gain feedback from others that helps you understand the value of what you share. Or you may simply find it easier to view yourself objectively, with a compassionate, appreciative and discerning inner eye. As you lean and accept who you are, you become a more powerful vibration for masters to put to use in the plan of love.

If you have a dream in your heart, know that is has been placed there for divine purpose.  What you dream and desire contains the seed of divinity. It is meant to help attract your life mission and fulfill it with love, joy creativity and pleasure.  
So there we have it my delicious lovely. Wishing you an amazing week and I would love to hear your Word of The Year! Remember to breathe, smile and slowly start to play a bit bigger and more expansive. Huge hugs and squeezes and lots of garlic!