Happy Miraculous, Meaningful, Melody Making, Magnificent, Marvelous, Majestic, Manifesting Monday!  How was your New Moon? Did you celebrate the wonderful Lunar New Year where we now enter the Year of the Golden Rat!  Whoot! I am so excited, as Rat energy is good for my animal!
I went and bought a huge box of the cutest little tangerines with stalks and leaves on them.  Picked up 30 red envelopes from the Chinese grocery store downtown and then filled them with 2 loonies each (as you always have to work with an even number).  I then spent a good chunk of the day delivering them to family, friends, neighbours and even random people lol, a little red envelope with money in it and oranges. A sceptic friend pointed out that I wasn't Chinese; so why bother?  Because it's fun!  Because it's wishing others good fortune and a great Lunar New Year, because it makes me smile, laugh and raises my vibration to share, gift and PLAY! (Note that word as we are going to do a little exploring this week, yes?)
Last year one of the phrases I kept hearing was "I'm so busy," No shit!  Everyone is. We live in a society where we are more connected by technology than ever and like Pavlov's dogs we jump when the cell phone goes off or there is a "bing" as the 90th email of the day comes flooding into our inbox.  We rush from this event to that event and then collapse into bed at night clutching the medal of "Being Busy and Overwhelm" to our chests as we check our phones one last time before drifting off into an exhausted sleep.  Then as the alarm goes off in the morning we reach for our phones to quickly scroll through social media.  Seriously?  
Don't get me wrong, I'm not judging, I'm just observing and speaking as someone who has done that.
But what if there was a better way?  What if you gifted yourself with the time to Pause and Play? When I suggested that to someone a few weeks ago they looked at me askance and said "Jenn, I don't have time for that and there is no purpose."  Ahhhh, grasshopper that's where you are wrong. Taking time daily to PAUSE, to just BE, to not be doing, lowers your heart rate, calms your adrenal system, soothes the mind (eventually) and more importantly it allows space for your wise self to share with you, to be heard.  Now I'm not talking hours, or even half an hour – unless you want to. I'm talking 10 minutes perhaps. It could be sitting on your front porch with a cuppa tea. It could be perched on a log in the woods, it could be curled up on your sofa looking out of the open curtains at the night sky.  It's that time where you gift yourself a bit of space and listen. Think about it, when you listen to great music, there is a pause – yes? When you read a book, there are pauses between the paragraphs and chapters – yes? When you take that deep soothing breath in, then hold for a few seconds prior to exhale – it's the place of the pause.  The place of playing in the infinite field of possibilities is in the pause.
Now let's look at the PLAY aspect.
Have you ever walked down the street with a small child?  They jump in the puddles, are fully engrossed with the worm they have found and notice the most random things that we, as adults, blow past – as we are busy, right?  They are in the moment. They are playing and radiate joy like massive sun beams! If you've ever owned a dog and taken them out for a frolic, they are a fabulous teacher for being in the moment and playing full out.  There's a stick, there's a ball, there's someone to run with, what's that smell, chase that bird, roll in that deliciously stinky thing, chew on a log. They aren't worried about the future, they aren't moaning about the past they just are!  Now I'm not saying be a dog or act like a small child, but I am saying do something every day that brings you Joy, feels fun and makes you feel good!  Why? Because it gives you a glorious release of dopamine which is great for your brain, it makes you smile, which causes the people around you to smile (or think you have lost your mind), boosts your immune system, rejuvenates and replenishes you and raises your vibration to attract to you more of what you WANT!
An example, I love to dance.  I will dance in the kitchen when I'm cooking and now when I take the doggo out for a late night walk I have  great soundtrack on and I dance for about 3 km. Does it make me laugh, heck yes. Does it feel good, heck yes.  Do I look daft, oh gosh yes! But who cares. Whatever it is that makes you smile, laugh and have fun – do it every day and watch what happens.
I had a friend visit on the weekend who had bypassed her inner wise wisdom due to "feeling busy and overwhelmed" and was in a challenging head space, dealing with some life blips and quite fragmented.  So after listening, making sure she was fed I invited her to come for a yomp with me. "I've so much to do, I don't know……blah, blah, blah." But she trusts me enough to know that when I suggest something to at least try it out.  So off we went, I pointed out the eagles, the rainbow, the hummingbird, cracked jokes, danced next to her and I had even brought chalk! So we made some lovely pictures on the walkway and her shoulders started to drop down and there were smiles galore.  I chased a peacock trying to get it to gift me a tail feather and she laughed her soxs off. We sat on a driftwood log embracing the sun and the waves flooding in. By the time we got back to the house (a whole 30 minutes!) Her mood, her vibration where deliciously high and she was laughing.  Also, in that time we had nattered about creative solutions to the blips she was facing and because she was in the energy of fun and play she could hear them! 
So I have an invitation for you.  Are you willing to gift yourself with 5 minutes minimum of just BEING and breathing and doing one thing every day that makes you laugh and is fun?  What have you got to lose? 
I've been playing with this practice for a month now and have to say it drags me out of the blaugh, and I feel fabulous.  It also brings up creative solutions, my intuition is higher and more importantly I am laughing daily (even if it is at myself lol).  
Okay, enough chuntering on – but I'm serious about the invitation.  Try it for 21 days and see what changes for you, for those around you and more importantly watch how delicious you feel!  
So when I went to the cards and asked who would like to guide and share this week I grinned and laughed.  The gorgeous Lightworker Oracle guides chose to show up and shine.  The perfect guides to help you embrace your light, raise your vibration, pause, play and shine!!!  
Now if these are new to you, please let me introduce them:-  This deck is for lightworkers and what I mean by that is old souls.  They have an interest in being of service. They want to live a life of passion and purpose and have their life mean something at a spiritual level.  They care about causes that stir their hearts. They are often the black sheep of their family. Does this sound like you? I know it does for me. 
The crystals that wanted to show and shine are:-  Angelite– brings serenity, inner peace, and a sense of calm, and it's excellent to use with overwhelming stress.  Rhodochrosite – opens the heart, lifting depression and encouraging a positive and cheerful outlook. It improves self worth and soothes emotional stress.  Aragonite – helps relieve stress and anger bringing you patience when it is needed most.  
Also,the gorgeous snowdrops and daisies wanted to come and share their light and they are happily ensconced in a vase on my table now.
So sweet pea, just breathe yourself back into your body.  One slow deep breath, then exhale after another. Allow yourself to bring to mind what does the pause and the play look like for you, what do you want it to look like?  As you breathe that idea into your being, just notice it, let it play in your minds eye.  
Then when you are ready, pick the card or cards that whisper, tug or invite you in.
Did you remember to pick?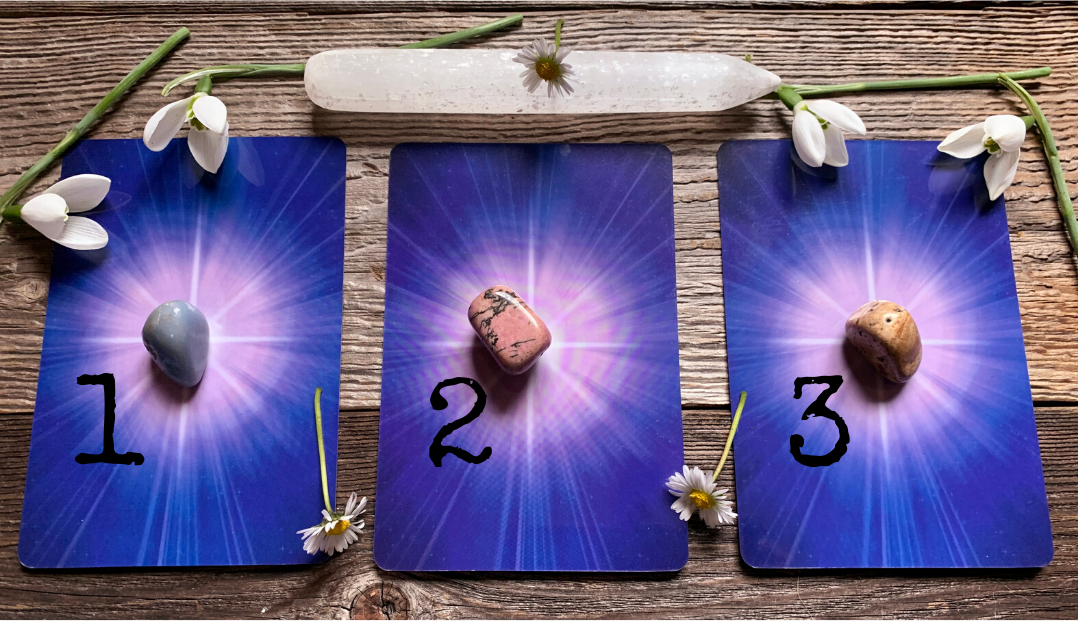 Shall we go have a look?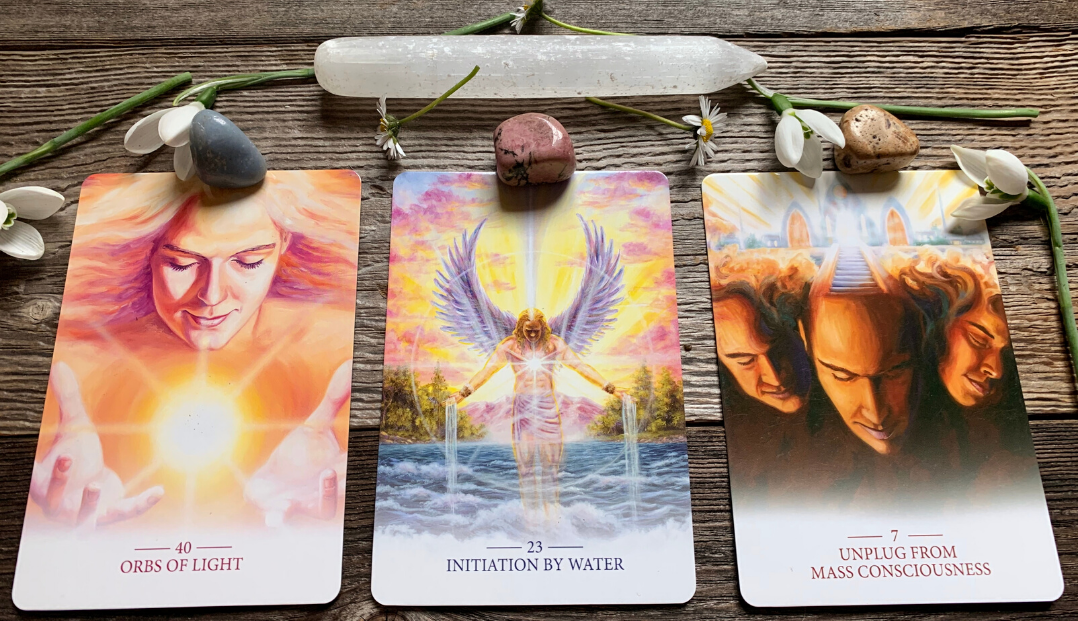 ORBS OF LIGHT
The spiritual worlds are delivering a message to you.  You may have already heard it, through telepathic reception, and mistaken it for your own thought.  Yet it is inspired by your higher guidance, those spiritual beings that love you without condition. It is an answer to a question and guidance to increase your happiness.  
It is possible to pray without realising it.  The Universe is lovingly listening to every thought and feeling in your heart and mind.  When you intentionally speak to the Universe and ask your higher guidance to help you with an issue, this is  a powerful way to call the light into your life. It works. Often quite rapidly! However, sometimes we ask for help without being so aware of doing so.  Worrying about an issue or pondering a question are ways this happens.  
There are orbs of light around you.  They are spiritual beings that love you.  These orbs contain information and energies that help answer questions – and worries – through the intelligence and love of the higher spiritual worlds.  That information might come through a song, a phrase, a feeling or a colour or symbol that unlocks awareness in the deeper recesses of your mind and body.  
To access the information of these orbs of light, to be open to seeing them more clearly, whether directly with your own energetic vision through clairvoyance, or through photographs or other means, do so.  
Unconditional loving orbs are available to you at every moment, open your heart and invite them in.  
INITIATION BY WATER
Situations have been rising in your world that evoke emotional reactions and challenge your opinions and beliefs.  You may not feel in control. You may feel like your world, your own emotions, have become like a stormy sea in which you are tossed about – and you are doing your best not to drown in the chaos.  Yet you are not to fear it. It is stirring that which has been held within so it can be released. The storm will pass and the waters of your emotions shall become more serene.
You could compare the process to a glass of water with muddy sediment at the bottom.  The water appear clear as the mud is left to lie. Yet once that water gets stirred up, the mud rises.  Then it can be filtered out, and the water will be clearer than ever before. The turbulence was a step that led to greater clarity.
The waters in the glass are comparable to  your emotional waters. And the fixed opinions, beliefs or long-held emotional patterns based on unresolved past pain are the sediment at the bottom of the glass.  Hold the glass up to the light. Can the light shine through the sediment? No. But it can be seen through the clear water. Remove the sediment, and the water will be clear enough to allow light to shine through without obstruction or distortion.  The light is the light of Spirit, of higher truths, unconditional love, of peace, wisdom and joy.  
UNPLUG FROM MASS CONSCIOUSNESS
There is a belief system based on fear, doubt and distrust this is known as "mass consciousness".  It says it is safer to stay with the crowd, not to question what you have been taught. It says you can't trust the Divine to take care of your financial well being or your emotional needs.  It says you should be afraid and not take risks. Its says that if you dare to stand up and live your truth, you'll be lost and alone, humiliated, rejected or even destroyed.  
You are being guided to unplug from that systems of beliefs.  You are capable of a more creative, loving and soul-satisfying way of living.  To access this, let go of the way that is too small for your soul!
You are brave and aware enough to think outside the box, beyond what society or your peers may consider 'normal'.  You are supposed to be questioning things right now. You are in a transition from one way of thinking to another, opening up to a new world which you can trust enough to live with peace and happiness because of the upgraded new beliefs you are cultivating.  
No matter how others may resist or criticise your choices (perhaps your new ideas take you away from the world they feel comfortable in), your higher guidance encourages you to keep opening your mind to a more loving, higher reality.  
Sometimes breaking from the accepted norm, doing things differently or being considered weird to family, colleagues and friends is a sign that you are breaking away from the consciousness of the masses, which is not compatible with your own higher frequency consciousness.  
So keep unplugging yourself, one layer, thought, word and deed at a time, from that which the mass consciousness would have you buy into – more stuff, more fear, more competition, more doubt and more suffering.  You can challenge any thoughts you don't want to have. Free yourself. You have the power to change your world and the world we live in as a result, on liberating thought at a time.
Wow!  Okay, there we have it.  Lots to encourage us to step up and shine!  So my delicious lovely I wish for you an amazing week filled with the pause time and the play time.  May you give your wise inner voice time to actually speak, and more importantly to be heard and may you laugh like a 3 year old having their tummy tickled!  Huge hugs and squeezes.