Hello, and happy, exceptionally smoky Monday and BC Day (which is a holiday), and when I say smoky, I mean smoky.  It is like having a thick fog layer or grey clouds making everything exceptionally hard to see and the sun glow like an orange ball of fire (if it manages to shine through the smoke).  I know I said last week that I was taking today off as it is a holiday – and that was my plan, however Spirit had a different plan and kept nudging on Saturday, then on Sunday and finally literally hollered at me today that a reading had to happen.  So guess what?  A reading is happening.  It also made total sense when I finally surrendered (not capitulated) to the message as it is the Full Moon with a partial lunar eclipse and I received 2 new gorgeous decks this weekend.  Whoot!  Whoot!
Now, a quick note, this is an interesting month as we have a partial lunar eclipse today and a full solar eclipse on the New Moon on August 21st.  So the energy is going to be deliciously interesting, also the theme for August is re-evaluation and reset, which is what the eclipses invite us to do.  "Eclipses can generate an awareness of something larger, running the show and they poke holes in our ego/identity revealing things within us that we have been avoiding or are totally unaware of."  Hmmmmm, well this should be fun shouldn't it.  So with this south nodal, lunar eclipse in tropical Aquarius happening today, it's all about the release, reset, letting go of the past and moving more confidently into the future and some change after the solar eclipse.  Phew, so buckle up, remember to ground into the earth and be willing to re-evaluate, release and reset.  (Remember Full Moon time is a great time to release!)
With that all being said, when I went to do the reading my 6 year old decided to come hang out and touch every crystal I have as I set the space and cleansed everything.  He then pottered around the garden and came back with a mint flower, a corn stalk and oregano flowers and said in a very serious voice that these were needed.  So those are the glorious plants that joined us today.  The wonderful crystals that hopped out to play are peacock ore and moonstone.  One of the new decks was very eager to come and join in and so after she was cleansed, given a mission, blessed and consecrated, here she is.  Thus, we are working with the Oracle of the Dragonfae by Lucy Cavendish.  So let's go look shall we?
Remember to breathe, remember to trust yourself and invite whomever or whatever you feel connected to into your space, breathe in deeply and release it as a sigh and when you are ready pick the card or cards that resonate for you.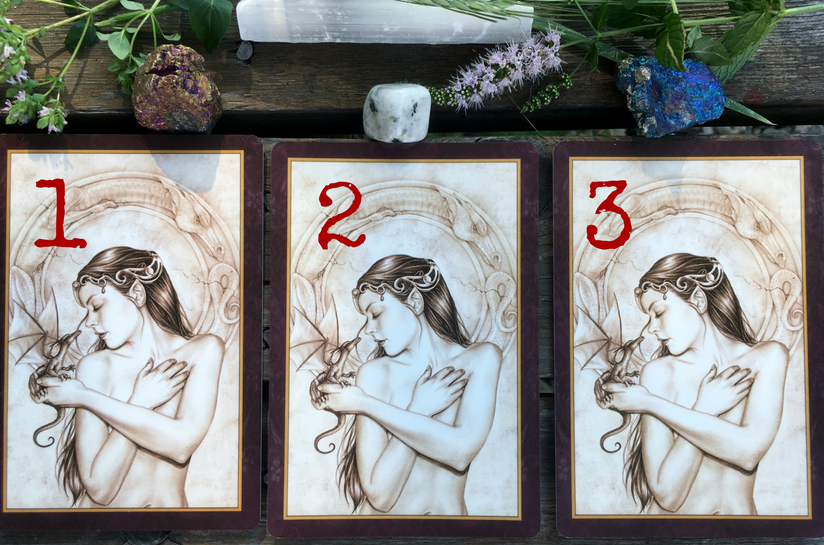 So let's go see who you chose, or more likely – who chose you……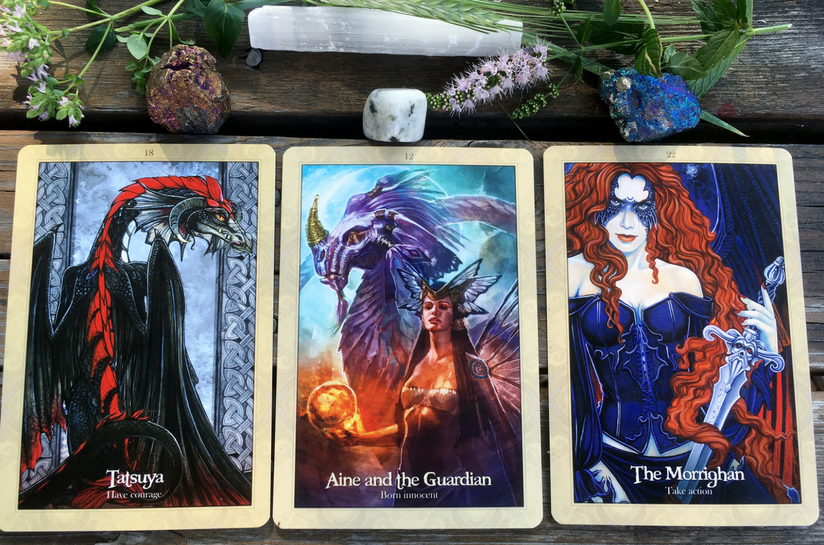 Tatsuya
We will go through the crucible, every one of us, and emerge changed.  Ourselves but not ourselves.  Now it is your turn, and you need not be afraid.  For your fear will only hurt you, while your courage, in being tested and exercised, will show you so much of your great potential.  For you are heroic, noble and able to pass through this.  And while it may change you, it will do so in magnificent ways.  Are you ready?  No?  Well, put aside your fear and follow me anyway.  I will teach you how to face that which you fear, and move forward anyway.  
You are now in the process of deep transformation and by entering this door and facing the unknowable, you will find new hope dawning before you even dare to dream of it.  The second you take action is the moment you will be changed.  The more you explore and investigate this capacity of yours to be courageous, the more astounded you will become at your own ability to miraculously, naturally transform yourself.  Intellectually, you understand this.  But your body hesitates at the commitment you know this change will take.  Trust this courage, and the blossoming of it; do it now.  You will then start the process of moving through to a new stage.
Your fear masks a deeper dilemma; that of not being your true self and of not knowing that self.  This stage will see you reveal your spiritual beliefs, live with integrity, open up emotionally, and become richer and more blissful in every way.  With this test of courage, you will shatter the illusory barrier that lies between you and true self-love and self-worth.  From this test you will learn to love this individuality, to recover from conditioning and to emerge truly yourself, beautiful and ready to fly.  Come through the door.  There is nothing to fear.  You will see.  Now it is your time to become who you have previously only dreamt of being.
Aine and the Guardian
Here I stand, offering to you the protection and safety of my guardian being, wanting you to know how very protected you truly are.  Never need you fear again those who have done you harm.  This is over, and never again will disrespect and tyranny blight your path and light.  Know that from this moment on, I stand with you, as does this magnificent Moondragonfae guardian, and together we say you may live as you wish, you may love as you wish, you may worship as you wish.  No longer will others who feel they know best have their way with you, in spirit, in your heart, in your body, in your eternal soul.  You are a radiant being of moonlit power, and the Goddess, our Mother, is overjoyed at your brilliance, your wit, your beauty, your freedom.
I repeat.  You are safe.  You are protected.  You are divine.  All else is a lie.  
Allow yourself to take flight, and explore the night and the freedoms it holds.  The Moon cycles have much to reveal to you now, and as she wanes and waxes, and shines fully, you may stand beneath her and feel her rays shining through your every cell, filling you with natural magick that sustains your freedom, your true soul self, and brings you a warrior strength that by no means decreases your brilliance's as a woman, or your femininity.  Be receptive, and Aine will guide you to her magickal places, and this galactic Dragonfae being will help you see beyond our own star, the Sun, into the realms beyond.  Your freedom and your self is as boundless as the night sky.
The Morrighan
I see now that events are moving extremely fast; this is a time of rapid change and creation, so rapid that you may wish to slow down, just a little.  However I say to you clearly that the time to act is now; and that procrastination and hesitation are your enemies at this time.  I can lead you forward through this time, and help you pick your way through the minefield before you.  This is a time of testing and darkness, but through this you will grow strong.  Be aware!  If you have resisted your abilities, or felt blocked in terms of following your life path, these changes will take place very rapidly because they have been waiting for a signal to be able to come in, and they are working hard with you so you do not have to endure a long, drawn-out process of change.  Truly, you are ready.  Take flight with me, and know that taking your own path seriously and acting now with deep integrity, is the way for justice to reach you.
Do not give in to panic and do not run.  Now is the time.  If not now, when?
You have already tortured yourself in a thousand ways with your thoughts.  You cannot avoid change; each day your cells renew, and all you have to do is breathe in and out for this process to take place.  You are confusing stasis with safety – there is nothing to fear, there is everything to gain.  A turning point in your life demands action on your behalf, and backing down or avoidance is not the answer.  Draw strong boundaries and claim your space.  Face trouble rather than turning away.  Confront injustice and change the rules by which you have felt bound.  Learn to work with your strength and your own ability to create deep change.  Lose fear of your own power.  Let your courage feel inspired and know that destiny has given you an opportunity to be the courageous being of action that you truly are.
Yes!!!  Talk about cards that are most certainly about release and resetting!  I love it.  So dear one, wishing you an incredible week of clear skies, bright sun and soft rain.  Remember if you feel at all overwhelmed this week, take your shoes off, put your bare feet on the earth, or in the water or the grass – breathe and see yourself connected to the earth.  You are amazing, and this is going to be a great week!