Happy delicious and delightful Monday gorgeous one! How has your week been?
I don't know about  you but it has been hawt, hawt, hawt here and so I have been emulating a reverse sun dial and moving from patch of shade to patch of shade lol.  This has proved challenging at times as a while ago I decided that I really needed a large workshop/shed and so Wednesday found me in the baking hot sun framing up the walls!  (What's that saying about mad dogs and English men going out in the noon day sun?) Needless to say I felt rather crispy after 9 hours of building in the heat, but very satisfied that the framed walls were up.  Then on Sunday I spent another 7 hours starting to put up the sheathing and figuring out the roof pitch and rafter cut lines. So slowly but surely this space will get completed over the next 10 days and then I can start filling it with all the lovely things that need to be kept safe and dry.
Remember the other week we talked about "eclipse season" and how eclipses bring up the hidden and there is an energy of transformation and change? So the partial solar eclipse in Cancer that happened on July 12th really set in motion quite a few cosmic revelations about your life and there was most certainly a nudging towards something different.  With that being said, we are coming up to the second eclipse already (time just seems to fly). This is a full lunar eclipse of the Blood Moon in Aquarius, it's also the longest lunar eclipse of the 21st Century as it lasts 103 minutes. I could write soooooo much about this eclipse, but then the reading would be like a small novella, so if you are part of the community and receive emails from me I will send something out near the end of the week to help you work through this energy.  What you do need to pay attention to is the Blood Moon shoves us towards change and with this full moon and eclipse there is a real resetting of emotions, a clearing away of the emotional baggage of the previous 6 months. So if you are feeling the increased emotional energy, a sensation of something big is going to happen, or just a tad fragmented, remember to breathe, take a moment and just let the feelings flow through you. Okay? A quick and easy tool to use at this time is keeping a piece of Indigo Gabbro (aka Mystic Merlinite) with you, either in your pocket, stuff it into your bra – whatever works for you.  
When I was asking the cards who wanted to come and offer support and guidance this week it was no surprise to me that a gorgeous deck I acquired a few weeks ago stood up front and centre.  This glorious deck is "The Oracle of the Shapeshifters".  Let me share with you a little of how this deck works.  "This deck is filled with mystic familiars for times of transformation and change. Fear corrupts and these guides are for anyone experiencing a transformation and who may be fearful of that change.  Change is one way of staying very much alive – it's necessary and healthy. True deep change must take place for you to fulfill your soul contract. If you are blocked in terms of change and fear it, you will perhaps have a tougher time changing.  You may turn from possibility to what you have convinced yourself is probable: You diminish your possible self, reduce who you are, and dilute your spirit. For some, this is more comfortable than facing the fear of evolving actively. But even when we have diminished ourselves, sought to remain invisible and hidden away, and said yes to everyone else, life will find us – and transform us."
Thus, it is no surprise with what is happening that these delightful guides have come out to support and guide.  The crystals that came to join in with this reading are:- Bloodstone, Lepidolite with Mica and Sodalite, the nasturtium flowers, mint and lemon balm were adamant they got to participate as well, and then they gladly hopped into a salad!  Nom, nom, nom.
I have created a lovely visualisation, if you so desire,  to help you with this energy of transformation and change.  We go on a little backpack trip, don't worry you don't need sturdy footwear.  If that doesn't resonate for you then just take a few moments to really breathe into all the corners of your body and allow the tension to puddle around your feet and seep away.  When you feel ready, pick the card of cards that resonate for you and let's go see shall we?
Did you remember to pick?
Let's go have a little look.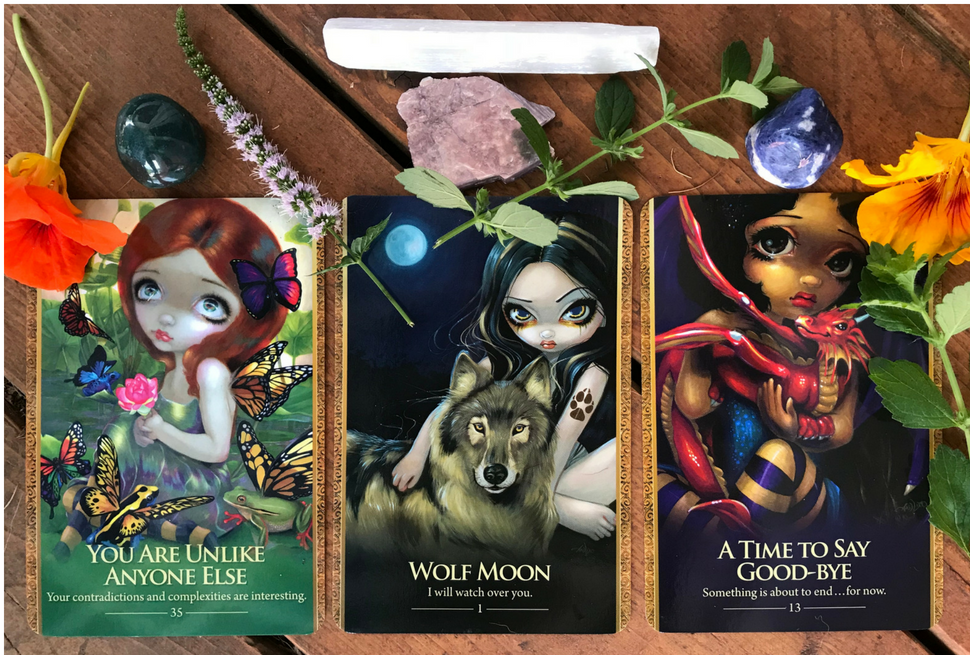 YOU ARE UNLIKE ANYONE ELSE
As caterpillars undergo metamorphosis, they turn to a sort of mush inside their cocoons.  So too in your life everything seems to have lost direction and feels quite meaningless, but you will regroup, reform, and transform.  A new world speaks of the necessary process you must undergo in order to create an important change. Developing new true friendships, repairing a damaged relationship, working on your skills in an area that does not come easy to you, making difficult choices about your integrity – all are addressed by the beings in this card, as they too have undergone the challenge of change.  You will notice that on the card there are beings who are hybrid – the butterfly frogs – who are at once not quite one thing or another. This is how your changes can seem to others sometimes.
"Which are you?" they may ask.  "This or that?" Many in life will want you to fit nicely into a category so they can easily label you and not undergo the difficult task of truly knowing who you are.  You do not have to choose between things. Humans are often contradictory. Simply be true to you. Be a frog with wings! Be all of who are and experiment. Let others be puzzled.  You have the courage to defy boxes, labels, and other easy ways of avoiding truly knowing people and the world.
There is no one like you.  You have gone through a very difficult time, but you have passed the test and been reborn.  You have done well to keep going, and now you can begin to see how worthwhile all the changes and sacrifices were.  A new time begins now. You have successfully reinvented yourself by doing what is not always easy. There will be more enjoyment and fulfillment and less to worry about.  You worried, didn't you, about whether this time of goodness and hope would come? Well have no doubt. It is here!
WOLF MOON
A beautiful girl is seated beneath a perfect full moon, unable to sleep.  She wraps her arms about the wolf, her companion. If you look closely, you'll see she has a tattoo of a wolf's footprint.  She is one of the clan; she is different in form, though she is one of their own. The wolf is being held by the small girl – they are not the same, but they are kin, and one is changing, which requires courage and commitment, and flourishes best when protected.  The girl may be about to turn, change form, or she may be holding one who is about to change. You are always in this process of transformation, and when you have a guardian, you will be supported through your shifts into many selves.
The lunar aspect of this card is protective; the moon's fullness suggests a high tide of power, and this is traditionally the time of great change and metamorphosis.  This is a time when the tender can cradle the fierce – and in which your true, wild self and instinctual knowledge can be heard and acted upon.
A clan brother or sister is watching over you while you change, so rest easy knowing how fiercely loved and loyally protected you are.  While you change, you will be held and watched over by a guardian who will not let you down. You are in the moment of transformation. Your fears – that others will not understand who you really are when you show yourself and that you will be left vulnerable – are unfounded.  Your greatest fear is that you may hurt others while you are changing so deeply. The coming full moon is significant for you: You are changing, and your true family will support you through this shift. This is a time for courage. When you approach this change with a brave heart, all will be well.
A TIME TO SAY GOODBYE
A time to say goodbye will help you to let go, even though it hurts a lot.  This is now out of your hands; you have to say goodbye at this time. Be active in this ending when this card comes to you.  Be brave; think about how you can best take care of yourself at this time, and show the other person how much you care. Don't ignore or shun them.  Rather, let this person know what they have meant to you, wish them well on the next stage of their life journey, and let….them…go! There may be great sadness id doing so, but you will grow so much because you have chosen the better way to deal with this sad situation.  This other person has learned how to detach and stay detached. He asks that you do not ask for him to return, to stay, or to cling. Be strong because you need to be dignified, and believe that something better is coming. Because that is the truth. Something better is coming.  So open your arms, and let him be free, as he has learned to be.
You may be reluctant to see an ending – you may wish to extend the time you have with someone, or you may even feel like you are being cheated out of something you deserve.  But the truth is that things must die in order to be reborn in another form at a later time. This is the chosen time to go, and from the ashes, something new will arise, and it will be even better than you can imagine.  Rebirth cannot take place without a death – and it is now time to end something, to let something both externally and internally die. It may be a long-held belief, a place that seemed to hold security, a friendship that has grown unhealthy, someone you've been going out with who no longer wishes to see you, or a beloved family member who may not be in this world much longer.  Whatever it is, let it – let them – go! Something else will return to you. And you cannot be reborn unless you first know how to die. This is your chance to learn something very profound, deep, and important. Do not miss it by resisting what must take place.
Holy Hannah!  As a friend of mine says "You can't make this shit up!"  The cards are positively perfect for this upcoming Lunar Eclipse, are you paying attention?  So delicious one, remember to breathe, laugh a lot and be kind to yourself and others. Allow the fears, the thoughts and any confusion to just flow through you like a stream, don't try and dam it up and tuck it away – that won't serve you.  Have a fabulous week and if you are part of this lovely community I will be sending you something later this week about the Lunar Eclipse. Huge hugs and squeezes! See you next week!