Happy glorious magnificent Monday!!  How was the Full Moon and Lunar Eclipse for you?  I have heard from quite a few of you that you experienced big releases, which is awesome.  I took some time that day for ritual and then spell casting in the evening (yes I did say spell casting).  It was a glorious spell for Joy activation that is best performed under the Full Moon, so I most certainly did it and it felt marvelous (and my home smelled divine).  I also took all my crystals outside to get a divine moon bath and the next day when I went to retrieve them all they were buried under 5 inches of snow!  Thus, they gave me a very frosty reception (get it) – snort, chortle, chortle.  
I am so glad that February is here!  I find February one of those delicious months of dichotomy.  It's a month where we often experience the coldest night of the year, but it is also a month with Imbolc, Chinese New Year and Valentines.  Thus, many glorious reasons to celebrate (if you had to have a reason that is).  I love Imbolc as it's a celebration that honours the increasing light and all things to do with home and hearth.  So sometime during the month I take time to do a ritual about the energetic cleansing of the spirit of home and hearth and it really seems to align the energy of my home with those glorious energies of nurture, expansion and growth.  February also feels like  a month of hope as just around the corner is Spring Equinox.  So when I gaze out on mounds and mounds of snow and grey low clouds, instead of wanting to crawl back into bed there is a knowing that soon there will be snowdrops pushing up at the base of the trees and everything starting to come into leaf.  This is when I dig out all my gardening magasines and dream of what I'm going to plant and where, what is the feel that I want my sacred space to have and all those lovely things.  If you remember the theme for January was Evaluation and Action.  The theme for this month is UNFOLDING (see doesn't that even make you think of flowers and plants?)  Now what is meant by UNFOLDING – This month we examine our relationship with time, with impatience, with the masculine willful part of ourselves that always wants to push things through and make things happen, our addiction to stress and drama, and our fear of not being and doing enough. Whew!
So let's crack on shall we?  The deck that literally hurled itself at me is The Oracle of the Faery Forest, which is so gosh darn appropriate as it's dedication is "May the wild green world and the wondrous beings of this Faery Forest heal us, inspire us and urge us all to become more who we truly are meant to be….."  Which in turn ties in with the theme UNFOLDING.  The crystals that came to play are Aquamarine, Picture Jasper and Howlite, with of course Selenite as a purifier and amplifier.  
Thus, take a moment and get really centred in yourself.  Breathe out a long deep breath through your mouth and then breathe in through your nose.  Wiggle your fingers and toes and roll your shoulders up back and down.  There is a lovely guided visualisation where you become your own rainbow if you want to get deeper into being present and centred.  Then when you are ready, pick the card or cards that resonate for you.
Did you remember to pick?
Let's go have a little look see shall we?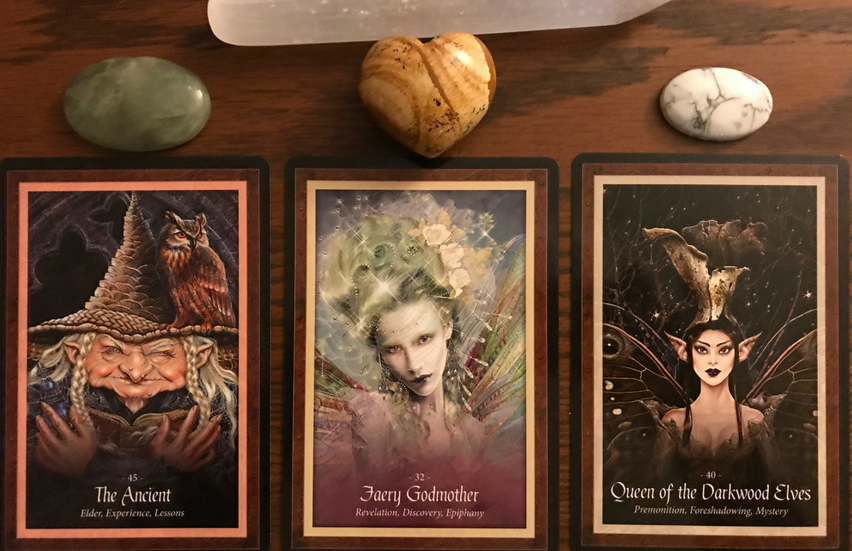 THE ANCIENT
The Ancient is so old she is almost beyond time.  She is able to speak the truth without compromise – as are you.  She is so old, has experienced so much, learned and taught so many lessons, that she has become powerful and influential, just as you are becoming, too.  So too are you growing older, coming into wisdom.  She knows that while others are now going to come to you for advice and guidance, she sees your humanity – your faults and your flaws and your feelings of unworthiness.  She wishes to reassure you.
Others will come to you, seeking knowledge, awaiting a blessing, an initiation, and oblivious to the consequences of the path they wish to walk.  Wisdom, true wisdom, understands complexity, and you have developed this quality.  The Ancient is honourable and human, and yet more than human, and she is courageous and has made sacrifices – as have you.  She sees straight through comforting illusions – as do you.
She represents ancient tradition and the challenge of defining the self, yet remaining with a tradition that you value – and this too is one of your challenges.  So take responsibility in your life.  You will face the battle of choice, and you will be the antidote to gurus and dominant personalities who claim to have all the answers.  The Ancient recognises the challenge of being a teacher.  This immersion in a world to learn the ancient arts and venerate wisdom and old ways can be expressed in many forms, but everything you are now learning has value.  She is the repository for ancient secrets and the contact between worlds.  She is wise – and she has learned to consider every word that falls from her lips, even as she longs to call out for freedom.
FAERY GODMOTHER
When the Faery Godmother comes to you, be aware that this is a time when you will discover what has been long hidden to you – your true self will be revealed in surprising ways every day, and sudden moments of heightened perception will make this time especially significant for you.  People finally get found out, manipulators can be seen through, true costs of circumstances are revealed, and any lies about you will be seen.  This can be hard, but it is truly a hardship that is born of protection – you are safer for knowing in whom you can trust in order to make the right choices for your soul.
Throughout these revelations and insights will be a guiding hand – and this is the Faery Godmother.  She is showing you what it is you need to know in order to create and foster a life that works for you – and she is a protective force too.  So what you need will come to you now, sometimes in very strange ways.  Be mindful of counting your blessings at this time – for this is the energy your Faery Godmother can draw upon to keep transforming your life into one which is more abundant, magickal, meaningful, and joyful.  
Note every moment of truth – they are all significant, and you are better for discovering what was once hidden from you.
QUEEN OF THE DARKWOOD ELVES
Sometimes there is a stirring, a shimmering movement, subtle but unmistakable, in the web called wyrd that connects us all.  This is one such time.  The Queen of the Darkwood Elves has come forth to speak with you and ask you to be aware that something is approaching.  When she appears, there is a kind of foreboding and unsettled energy, akin to when a storm is gathering its power.  There is a very potent force readying itself in your life, and while its impact is yet to be truly felt and experienced, it is best to ready yourself now.
So, when this card comes, make good your defences.  Tend to injuries and wounds, be they psychic, mental, or physical.  Take care of unfinished business, and bring in whatever you can – gather up resources and be ready for when the moment strikes and descends upon you.  Because something that was unexpected could have harmed you, could have taken you unaware – but now you are forewarned, and truth be told you are now forearmed.  
There is no cause to be scared, frightened, or anxious – this card indicates that you have time to prepare, grow stronger, and meet whatever it is that is coming, face on.  You will move through the time you are now warned of, and you will be even stronger due to the challenge.  But make no mistake – there is a challenge coming, and you can now prepare to minimise its impact and ride out the intense wave of energy it brings into your life.
Well that was quite a delicously delightful reading.  How did it make you feel?  So my gorgeous one, wishing you a fantabulous week.  If you are somewhere where the weather is not conducive to flowers yet, go buy a couple of bunches of fat daffodils and place them where you can see them every day!  Stay warm, stay dry and remember to smile like a Cheshire Cat (one it makes you feel really good and two it makes people very curious lol).  If you want to know a quick ritual to bless and cleanse your hearth and home, thus raising the vibrations, let me know.  See you next week.