Glorious happy Monday, and to my wonderful American friends – Happy Thanksgiving!  I have to admit that I find it a tad odd to have Thanksgiving so close to Xmas, but hey I love to celebrate most everything (ask my kids).  It could be winter solstice, summer solstice, equinox,Chinese New Year, Easter, Valentine's, the sun is shining, the snow is falling – you name it!  Even simple things like the first flowers of spring, or having gorgeous flowers on my desk whilst it is grey and rainy outside.  Life is a celebration and quite frankly I chose to celebrate as much as possible.
Thus, with Thanksgiving in mind, let's play a game before you pull a card.  Let's play the being thankful game – ready?  Okay, gently close your eyes down take a deep breath in through your nose and exhale with a sigh.  Doesn't that feel good?  Okay, let's do it again.  Large delicious breath in through the nose and with a glorious sigh, exhale it.  With your eyes gently closed down I invite you to think of all the various people, places and things that you are thankful for – they could be present day, past day or future day.
List them all in your mind one at a time and as you bring them into your consciousness, smile and blow them a kiss (yes, seriously blow them a kiss).  See the kiss leaving your hand and turning into a gorgeous gold butterfly that flies off to that person and gently lands on their right cheek and brushes them softly with your blessing, thanks and appreciation.  
Now, think of all the people, places, things or situations that you have a challenge with, or that you don't feel so kindly towards.  Take a deep breath in and exhale.  Bring them up one at a time in your mind's eye and blow them a kiss.  This time as the kiss leaves your hand it turns into a delightful little pink heart filled with love and forgiveness and wings its way through the ether to gently land where it is meant to.  Another big breath in and as you exhale wrap your arms around yourself in a HUGE bear hug and see glorious golden light surrounding you like a cocoon and give thanks for your body, your heart, your soul, your mind and the delicious light that is you.  Big squeeze and as you release your arms gently open your eyes and smile.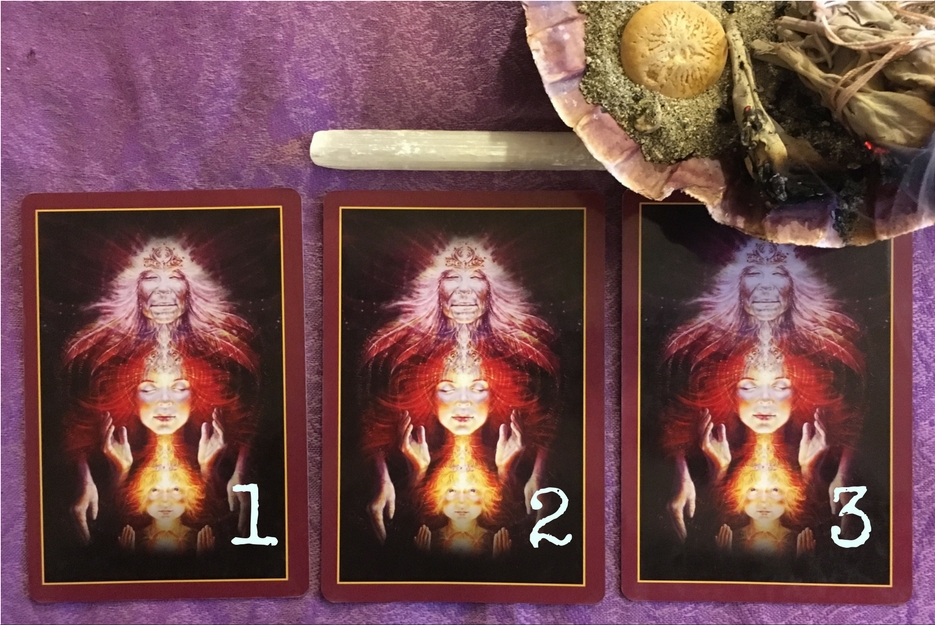 So shall we go look?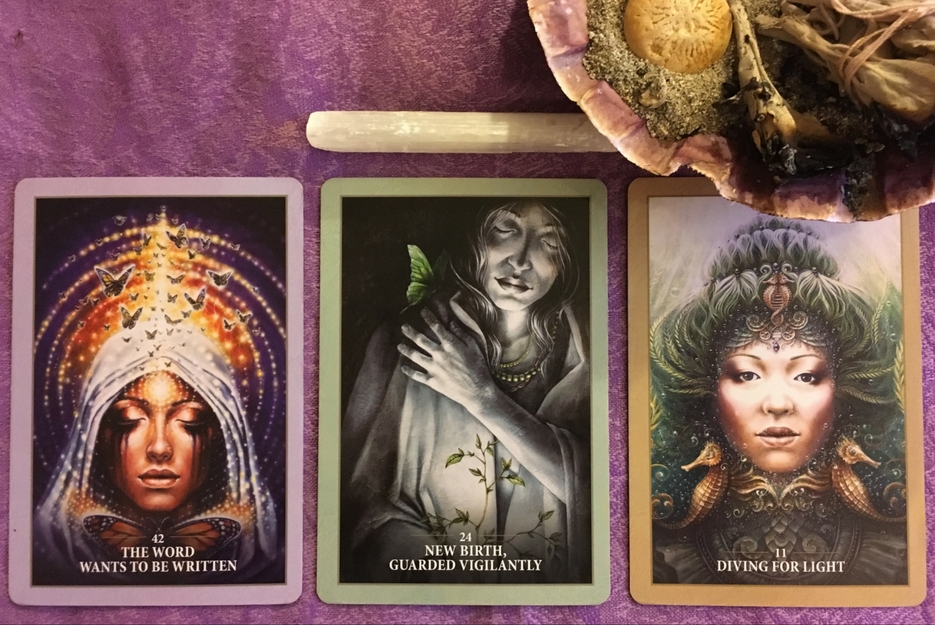 THE WORD WANTS TO BE WRITTEN
You might have been taught that creativity is something you have to work hard to access, or that finding your life purpose is so difficult that you must search high and low for it.  Or creating a living doing what you love is impossible.  
Yet what you are is within you and wants to come out at every available opportunity.  You don't have to struggle so much.  It is more about allowing space for it to manifest and to let the energy flow.  The effort is in getting out of the way, not in making something happen.  As for being yourself, that is the foundation from which your life path and joy will reveal itself.  Being yourself becomes easier when you give yourself permission to love, honour and accept yourself in all circumstances, especially the ones where you might be more tempted to reject and judge.  
What you are dreaming of or seek to manifest, is actually very natural for you.  That is why you want to do it.  Now it is about chipping away at the walls of shame, perhaps with a defiant "Who the hell cares, I am here and I am going to love myself anyway."  Release old emotional wounds and  break away from any restraints to unconditional self-love.  
What you want to write, sing, dance, create or become is you.  It is natural.  Drop your defences, get into the grit and confront the power than any old shaming has had over you.  It's finished now.  It is time for you to be naked with yourself, acknowledge how gorgeous you are and get on with your work.  Life is urging you to do so, because the work wants to happen.  What you want to create, wants to be created.  Step firmly over any remnants of the past that have been in your way and stay on your path.
NEW BIRTH GUARDED VIGILANTLY
In every creative process, in every birth, in every opening of a new cycle of life, there is a time of vulnerability.  This vulnerability is natural and appropriate.  It is the foal learning to become steady on its legs  Those legs will become remarkably powerful in time, but the process of growth and maturity has to take place, and that requires some wobbly first attempts.  It cannot be any other way.
Within you, there is fresh new life emerging like a vibrant green shoot rising up from the earth.  This new life is in need of your attention and your care.  This could be a new relationship that needs tending with interest and kindness.  It could be a new idea that you need to nurture into fullness, because it is going to hold special purpose for your life path.  You will not always need to cloak that which is young.  Soon enough it will be able to stand up for itself, but for now, your vigilance and care is most certainly required.  
Hug your ideas to yourself as though they were a new lover you cannot bear to share with another.  In time the world will be the lover receiving the love in your idea.  For now, it is for you to love, for you to hold and for you to observe.  Keep your sanctuary pure, this may be your room, a sacred place you visit, your own body, into which you retreat in relaxation or meditation.  Sometimes you will find that others have taken up residence in your sanctuary.  It is time to focus on the purity, light, love and compassion that dwells within you.  Everything else will come and go, and that is just fine.  But the purity within your sanctuary is eternal.  Firmly denounce any intrusion upon the new  life by doubt, fear or sabotage.
DIVING FOR LIGHT
How brave you are!  You are diving for light.  It's easier to look for light in the heavenly and sweet than to look for the light in that which is dark.  This is an advanced task that only a rebellious and brave heart will attempt.  
You may not feel that you have taken such a journey by choice.  Yet you have taken this wise challenge on from deep within your soul.  
This oracle speaks of a time when you are called into darkness through life circumstances, situations, relationship challenges or inner struggles that you don't understand.  That darkness may be a creative  block, a sense of being in a void or feelings of depression, rage, sadness, fear or anxiety.  There may or may not be an obvious cause.  The darkness might be generally accepted and socially acknowledged because there is a socially acceptable or obvious reason for it.  However, there may be no obvious justification for your experience of darkness.  Just know that you are actually on track and right where you need to be.
 Our creative process and our spiritual path go through  similar turning of the wheel process.  You need to be alert to sabotage and criticism.  Don't carry other people's fear for them.  Stay in your heart.  Will you stay in your heart or will you be seduced by darkness and overcome by anger or sleepiness.  This is a spiritual test and a threshold for all true creative work.  Stay connected to your heart, all will be well.
Interesting to see that New Birth came up again this week, so there is someone who really needs to hear that.  Wishing you all a glorious week and if Thanksgiving is happening for you, enjoy, laugh and relax.  See you next week.