Happy, Happy Magickal, Marvelous, Magnificent, Merry, Manifesting March Monday!  Whoot! Whoot! March is here and I am thrilled (trust me if you could see the happy dance I am doing you would laugh your soxs off).
Why am I so pumped about March – because Spring Equinox is almost here!!!  Now you may be shaking your head and thinking – yeah, so what Jenn.  Oh little one, Spring Equinox is a huge energetic time as it's the time of Birth.  The Birth of ideas, goals, desires and dreams – it is positively delicious and in honour of this time since Yule I have been working on two glorious offerings for you to really make this year so deliciously different, powerful, full of glorious magick and manifestation and really supporting and empowering you.  But more on that soon.  If you want to be kept up to date on what is transpiring and all the changes that are coming from this end do make sure you are part of our glorious email community.  
On Saturday I really felt I needed a "reset" energetically, mentally, physically and spiritually so I grabbed a glorious friend and we went and hiked, forest bathed and explored a glorious new beach, waterfalls and had a wicnic!  Ahhhh, I could feel the tendrils of "shoulds" melt away amidst the old moss covered trees, the "I can't energy" drop into the moss, and any "judgements of self or others" get washed down the waterfall and offered to the sea.  By the time I got home I was refreshed, rejuvenated, reset and replenished and also physically bagged so I tucked myself up in bed earlyish with a glorious witchy book.  
Thus, yesterday morning the minute my eyes opened at 6am I started hollering White Rabbits!  The poor dog bolted up and looked at me with confusion lol.  However, I have been saying White Rabbits on the first of March ever since I was wee, but why, where did it come from?  When I first asked that question of myself, my response was, because my Great Aunties told me to!
However, I did a little digging as to where the saying comes from and actually saying White Rabbits on the first of March (and apparently for most months) brings great luck.  In fact, "White rabbits, white rabbits' was written in the 'Notes and Queries' book from 1909.The word must be spoken aloud, and be the first word said in the month to bring great luck. It also was a common belief among RAF bomber aircrew during WW2 that saying "white rabbits" the very first thing upon waking would protect oneself."  Don't you just love finding out where traditions have come from?  I do.
With March coming in like a lamb (at least it certainly did here) the Energy has shifted.  If you remember in January the shamanic energetic theme was IF NOT NOW, WHEN?  February, the was MANAGEMENT and for March………drum roll please.  The theme we are being invited to play with and embrace is DISCERNMENT.  Now what does this mean?  
The best person to explain it is Lena: "What is discernment? Discernment is the ability to use good judgment regarding choices, decisions, boundaries, actions, intentions, ideas, commitments, other people, your intuition, thoughts, emotions, and self-reflection.
Good judgment comes from self-observation and deep reflection on what is your truth as opposed to what others want or think. March is a month to examine the motivation behind all your actions, reactions, intentions, habits and patterns. Discernment is refining how you manage what is on your plate by setting boundaries around what you wish to keep as well as what you have cut loose, always from a place of pro-action instead of reaction."  You can read more of what the amazing Lena has to share here.  
Now this is interesting as within many religious formats we are in the time of Lent, so where are we being discerning in these 40 days?  Is it with the food we put in our bodies, the way we use our time, how we use our smartphones, our self care (or lack of it) and a myriad of other things.  So there's something to perk for you delicious one.
Okay, enough chuntering on let's crack on with the reading.  When I went to the cards and asked who wanted to come support and guide this week I was intrigued to see The Isis Oracle were adamant.  
Have you ever asked who Isis is? Goddess of the Skies, Magick and Wisdom are just a few of the titles she is given.  Let me take a moment to introduce you to this lovely deck – "You are a powerful Soul and you are awakening.  Your thoughts, feelings and inner world is changing, and so too is your outer world.  When a Soul is growing in power and strength, it can benefit from guidance to help make the path into a new way of being in the world that much easier.  Isis offers Her wisdom and guidance to you to assist you at this time of spiritual growth and transition. She loves you, and wants you to shine and be your radiant self, filled with power and wisdom."  The perfect guides for this glorious energetic time.
The crystals that wiggled and jiggled are like gorgeous little robin eggs!  I clapped my hands in delight when I saw who wanted to come play. The ones that wanted to show and shine are:- Chrysocolla, Sodalite, Blood Stone.
Okay, roll your shoulders up back and down and just gently settle for a few minutes.  Allow your breathing to gently slow itself down and as you wiggle and move your rib cage, feel your arse bones either sitting on a seat, or pointed down to the earth.  I invite you to see in your mind's eye a waterfall, strong, soothing and welcoming you to release any "sticky" bits into the water. If you need a bit more support with dropping into this I have a glorious guided visualisation for you.
Did you remember to pick?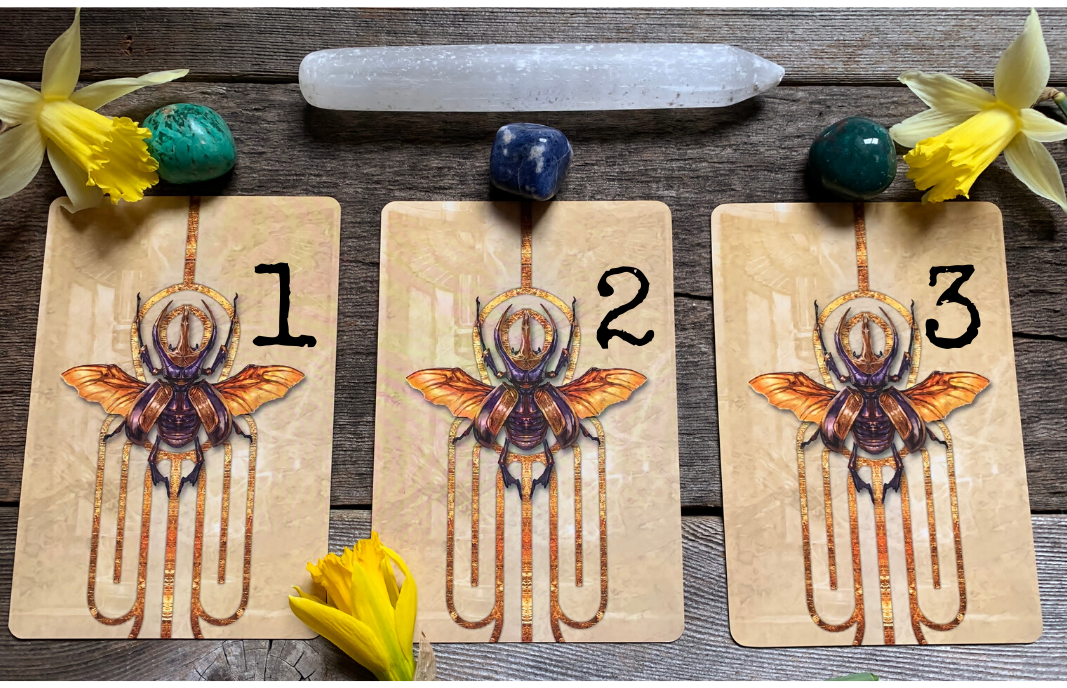 Shall we go have a lookie loo?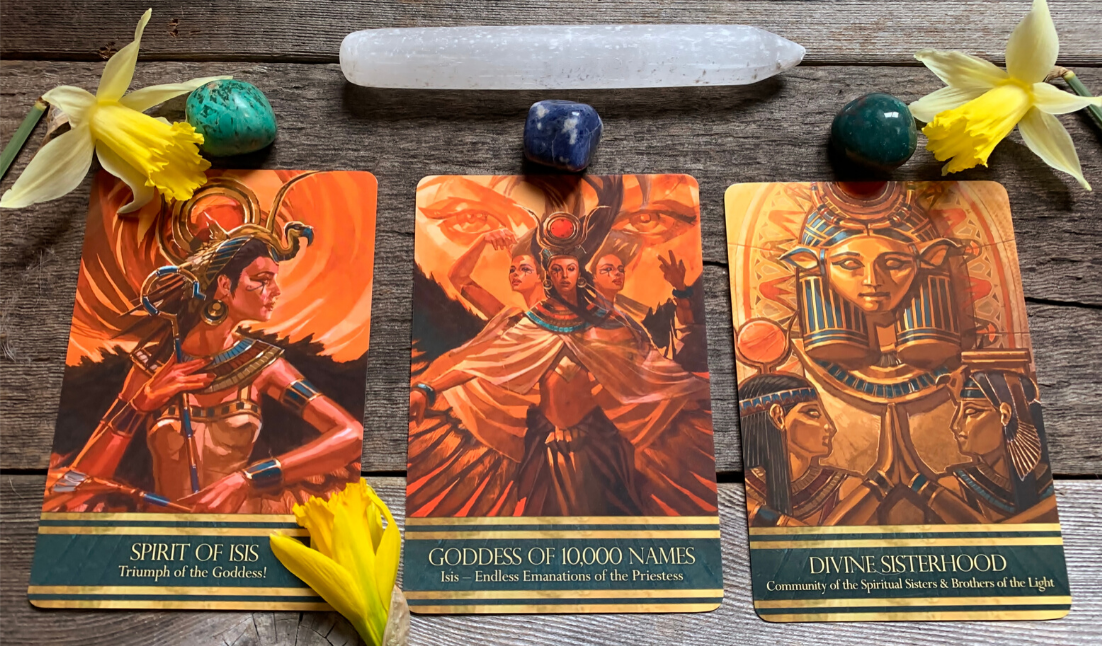 SPIRIT OF ISIS
Triumph of the Goddess
Beloved Initiate, there are times to surrender and let go, but there are never times to give up!  Persist with your bold faith and inspired action until the impossible happens. Isis has the spirit of triumph and will never fail in Her quest no matter how bold or impossible it seems.  Believe.
It is helpful on the inner path to let go and detach over and over again and yet we need to stay true to our heart and not give up on what we feel we are here to do.  Whether it is reaching for enlightenment, for inner peace, for a creative breakthrough or personal healing, the triumph of the Goddess is with you now uring you not to give up, no matter how far away or impossible success may seem to be.  Don't quit! Persist until the impossible happens!
You are being reminded that you can surrender, let go of attachment as to how everything will happen or what it will look like, even if it is frustrating to surrender the vision into the Divine Fires yet again, waiting until you feel it naturally coming together according to Divine Timing.
The Spirit of Isis is willing to wait until Divine Forces collide and the miracle occurs.  Remember, beloved Initiate, that the forces of growth, love and divinity are in your corner.  There is nothing more powerful than these. Allow them to have their way and you will have yours.  Your win is assured.  
GODDESS OF 10,000 NAMES
Isis – Endless Emanations of the Priestess
Isis with many names, forms, associations and expressions is referred to as the Goddess of Ten Thousand Names.  A name holds power. It defines and energises or limits. The names, faces, and roles that you play are just one part of your being, yet you exist beyond them, beloved Initiate, as a vast being.  
You are currently realising that you are not limited by previous identities you held.  Instead you are becoming more of your whole Self. Enjoy the uncovering of even more of you!
Just like the Lady Isis, you are a multi-faceted, multi-dimensional being.  It is most helpful at this phase in your path that you learn not to attach to roles or identities that may have once held great importance for you or others relating to you.  It does not mean that you must cease to relate to that name or role, more that you are realising it is only a part of you and there is even more of you wishing to express itself now.  
It can be tricky to avoid getting stuck in roles that others prescribe for you or expect of you, and yet your self-definition will become wider and your experience of yourself will be more real and fulfilling if you are open to discovering more of you, beyond the person you have considered yourself to be up until now.  This can be exhilarating and terrifying! However, there is a new, more whole, fulfilling and truthful sense of identity awaiting you. Any fear or struggle that you go through to allow this to happen, beloved, will be spiritually repaid to you multiplied, in so many ways.
There is nothing to lose except old limitations and so much wonder and joy to be gained!
DIVINE SISTERHOOD
Community of the Spiritual Sisters and Brothers of the Light
In community that is based in equality, respect, healthy boundaries and personal freedom, with a mutual desire for spiritual growth and honouring of innate wisdom, great miracles occur.  You are part of this community of light. At one time it existed only in the spiritual worlds, yet now it is being born on the Earth. It is part of your destiny to help create and nurture a conscious community that empowers all of its members and is based in truth.  
You are guided to allow the Beloved Isis to help you now through community.  There can be strength in numbers. Community can help you gain the added power of group effort to rise above the old patterns and lift each other into the new patterns that are so much more real and beautiful. In unity with the Divine in each other, we grow and become capable of such wonders!
You are wise and grounded enough within yourself not to lose yourself in a group, and instead to help a group become a community of honouring individuals.  Your leadership by example is important as groups can sometimes descend to the lowest energetic vibration if the members fall into their egos rather than staying in their hearts.  
If you have found that you have guidance to build community yourself, and are feeling a little overwhelmed at the thought, stay calm and stay in heart.  Allow yourself to collaborate with others, and work in smaller groups in connection with each other as a way to build community together. It will happen naturally.  The Divine Sisterhood will guide you if you ask for their assistance with unconditional love.  
Wow, what glorious messages and guidance as we enter this amazing March month and play with the building Spring Equinox energy and Discernment!  By the way, thank you for all your lovely messages and shares, I soooo appreciate hearing how you are. Someone emailed me last week asking how they could get a deeper reading, super easy and there is a selection of private readings for you.  Remember, if you want to find out what is going to be shared over the next few weeks, make sure you are part of our email community. Sending you massive squeezes, warm sunbeams and a bouquet of bobbly daffodils. See you next week!