Happy Miraculous, Magickal, Marvelous, Magnetic, Magnificent, Merry Monday!  With the glorious Fall Equinox last Monday, we are now in the energy of early Autumn (duh, Jenn!)  Ahh, but grasshopper with every season there is an element – yes? For example, summer has the element of Fire (think  hot days, forest fires, and that rising energy), early Autumn brings the element of Water into play.  
Ready to explore Water with me?  Water represents the Divine Feminine, emotions – such as love, compassion, sorrow, wisdom, the unconscious mind, empathy.  Water is also very cyclical (think of the tides), think of ice melting and running into a creek, which turns into a river which goes to the ocean, evaporation, then rain which turns into snow, which turns into ice.  Voila!. Water shows us movement, flow, whether it's the gentle swirls of a lazy slow moving river or the pounding waves that erode rock, at the same time it also makes us aware of stagnation and murky underdepths. Okay, Jenny what's this got to do with me?  You are composed of at least 60% water (that's a lot of water!) So whether you are conscious of it or not your body responds to moons, tides, and the element of the season. (Tell me in the heat of the summer you have never felt huge fire surging through you?)  
Thus, with this very emotional, strong, tidal energy in play now it's interesting to see that this element is also tied to the Sacral Chakra "svadhisthana" which translates to "one's own dwelling" – the home of the emotional body, communication, sensuality and creativity, our ability to express. 
So the question to ask yourself is are you "in the flow" – like a babbling brook, or cheerful creek,  or are there areas that are feeling a tad more "stagnant" – like a marsh? Are you feeling clear about your communication, your feelings, your creativity – like a gorgeous aqua marine pool, or are things feeling hidden, blurred and bogged down – more like a muddy pond?  Play with this. Perk it. A super easy daily thing to do to remind you about the energy of water is; when you get up in the morning have a lovely tall glass of warm lemon water, first thing. Feel it flowing down your throat, into your tummy, making everything fresh and washing away the night mossiness in your system (your liver will also thank you!)  Another easy thing to keep the awareness of water in your mind and help you examine whether you are flowing or a tad blocked – have a ritual bath once a week. Easy, peasy. Play with it, doodle it and let me know. Remember water is rejuvenating, refreshing, revitalising and can overwhelm when blocked up and it breaks free.  
Oh yes, Danu (my 11 month old doggo) has certainly made me aware of the Water Element this week, as on our daily beach walks she has managed (3 different times) to find a dead seal and roll in it!  (There are no words for that smell). Which in turn has meant having to bathe her and she hates water. (So much fun – said no one ever!)
The interesting thing was that as I was exploring water it brought up the last two Friday's for me, where we have had HUGE climate change demonstrations.  I unfortunately missed the first one, but I went last Friday and was blown away by the amount of people who turned up, the messaging they were sharing and also how many kids were there, fully present and staking their turf!  It was amazing! I don't know if any of you heard Greta Thunbergs speech to the U.N. But wowzer! When I heard it and heard her calling out the leaders of multiple countries, saying "I shouldn't be up here. I should be back at school on the other side of the ocean.  Yet you all come to us young people for hope. How dare you! You have stolen my dreams and my childhood with your empty words."  HOLY HANNAH!  The intensity and emotion in her voice – the hair on the back of my neck stood up.  This is a young woman who is totally in touch with her Water element, as well as all the others!  
To me Nature nurtures, having green space, clean water, being able to play outdoors is vital to me.  How would you feel if that wasn't there? We had lost over half of the animal species, there wasn't fresh water unless you had the money and there were no forests, meadows or green spaces to explore?  I can't even imagine, but it is a possibility if we don't make some changes.  
This in turn brought a reading to mind by Edward Everett Hale:-
I am only one,
But still I am one.
I can't do everything
But still I can do something.
And because I can't do everything,
I will not refuse to do the something that I can do.  
We all need to be responsible for not only ourselves, but the planet we walk on, nature, our communities, our families and the random arsed person we encounter on the street.  After all, whether you want to admit it or not – we are all connected.  
Okay, I have chuntered on enough.  So let's crack on with the reading.  
When I went to the cards to ask who would like to come to guide this week I laughed so hard when I saw who were most insistent.  (In fact tea was snorted out of my nose – not that you needed to know that). The guides that chose you are the "Earth Warriors Oracle", now if these guides are new to you, please – let me introduce them:-  
"There is a river flowing now very fast.  It is so great and swift that there are those who will be afraid.  They will try to hold on to the shore. They will feel they are torn apart and will suffer greatly.  Know the river has its destination. The elders say we must let go of the shore, push off into the middle of the river, keep our eyes open, and our heads above water.  And I say, see who is in there with you and celebrate. At this time in history, we are to take nothing personally, least of all ourselves. For the moment that we do, our spiritual growth and journey comes to a halt.  The time for the lone wolf is over. Gather yourselves! Banish the word "struggle" from your attitude and your vocabulary. All that we do now must be done in a sacred manner and in celebration. We are the ones we've been waiting for."
Repeat the last 3 lines to yourself.  Banish the word "struggle" from your attitude and your vocabulary.  All that we do now must be done in a sacred manner and in celebration.  We are the ones we've been waiting for.  Yes?
Woosah!  Breathe that in.
The crystals that wiggled and jiggled are:-  Rose Quartz – to remind us to not stuff the feelings, numb or avoid, but to feel and know your heart is strong.  Orthoceras – which is a fossil (do you see the little fish in it), assists you in moving from the old to the new and to be receptive to the fresh, innovative forces that are available to you.  Fossils can assist you in your quest for transition, transformation and personal growth, helping you to understand the process of change. Rhodonite –  is a stone of compassion, an emotional balancer that clears away emotional wounds and scars from the past, and that nurtures love. 
Ready?  Let's just come back to ourselves yes?  Breathe long and deep. In through the nose and out through the mouth, just let yourself breathe back into your body.  Feel your feet on the floor, your hands and fingers and the top of your head. Breathe. When you are ready, I invite you to bring the image of water into your minds eye.  Is it flowing, is it blocked? How does it feel? No judgement, just witness. Then when you're ready ask your wise inner self, what do you need to focus on with this element?
Did you pick?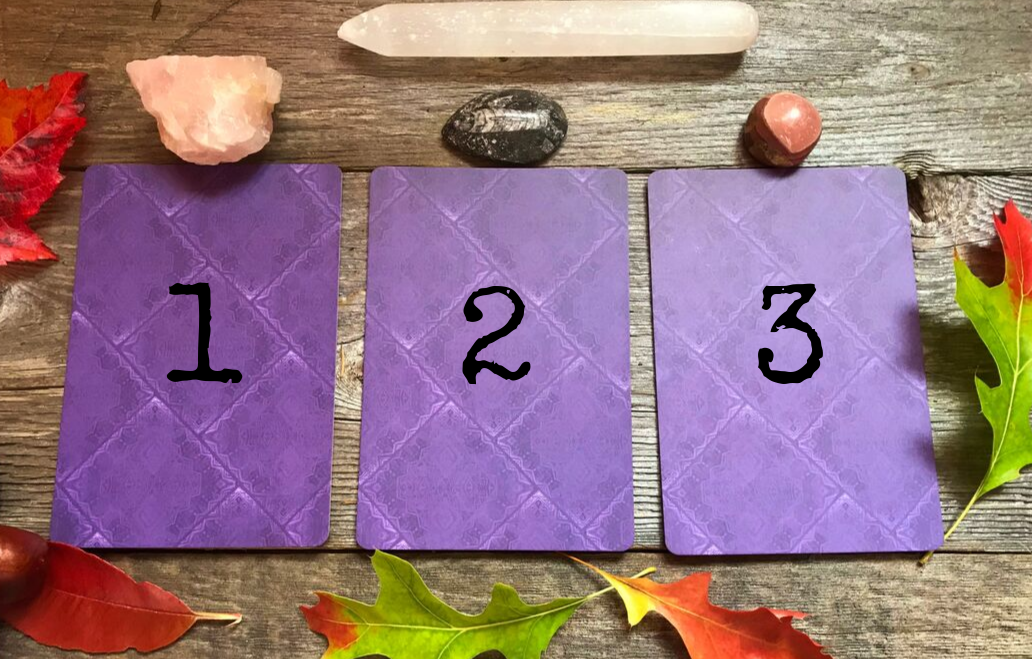 Ready to go look?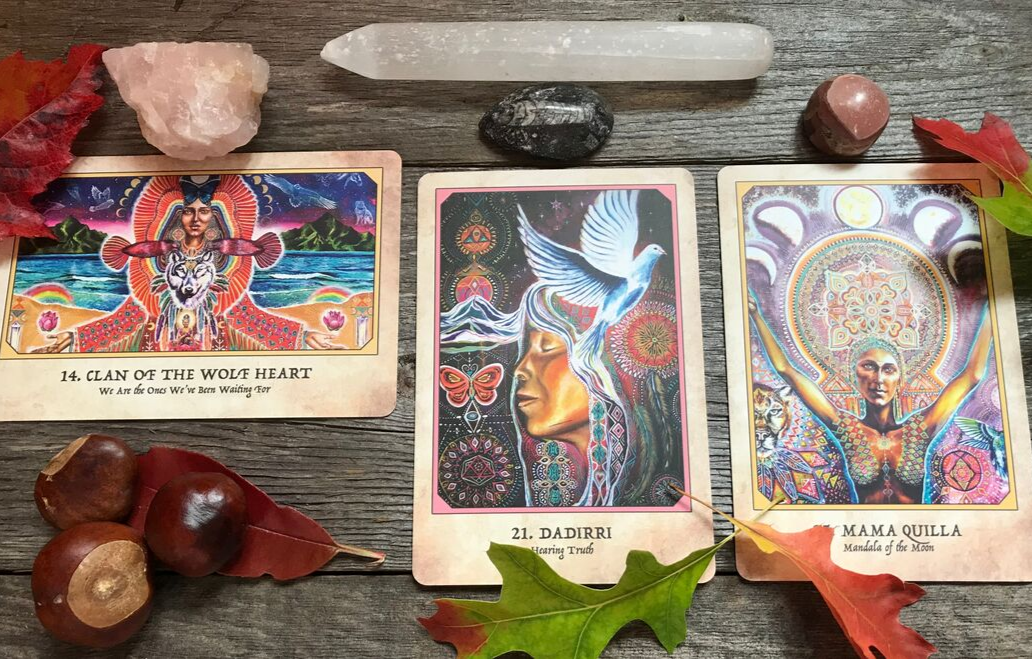 CLAN OF THE WOLF HEART
You belong to the Clan of the Wolf Heart.  This is a soul tribe, with boundaries beyond bloodlines and geography.  It is based on soul connection to love's wisdom and higher truths of Great Spirit.  The Clan is united through Wolf medicine and the heart. These are the qualities of the Divine Feminine that unify, allowing for a palpable experience of oneness that brings power to our collective wisdom and purpose.
Reach out for help from others, whilst you honour and respect your individuality and your own unique life journey.  Balance social time with taking care of your own individual needs, including the need for time out in solitude to hear your inner truths and renew yourself.  Anger can be a sign from the soul, a sacred gift that asks you to deal with a situation, to bring about something different and more empowering. Use your anger as a sacred gift with compassion and clear purpose.  Fight wholeheartedly when you need to safeguard what truly matters. Be open to a greater guiding wisdom so that you know when to be merciful and when to cut something off completely. Believe in the power of your inner voice, and do not silence yourself.
The howl of the wolf is primal and powerful.  It is used to locate clan members or to define the boundaries of their territory to volves from outside of the pack.  The howling wolf is medicine for standing your ground and defending that which is rightfully within your guardianship.  If this strikes a note within you now, be aware that using your voice and energy to set boundaries and claim your space is important.  The territory is not physical. That is the way of the ego. The territory is spiritual.  
DADIRRI
You have an intuitive ability to recognise truths of the spirit.  Dadirri is an Australian Aborginal term for the deep, spiritual practice of reflective and respectful listening.  It is a deep listening for truth beyond physical words and their logical meaning. It is the way the shaman hears, with the soul.  
Through the power of his or her own inner experiences, the shaman is able to create spiritual wisdom for the community, bringing balance and unity between the realm of Great Spirit and our Earth.  As one who holds the potential power of the shaman, it is part of your soul journey to seek out deeper meaning, to never assume that the whole truth is revealed in what another says and, instead, to listen carefully – sometimes even for the truth evidenced in what is not being said, but being communicated in other ways.  Others will naturally be drawn to you for counsel, but you must be sure that loving wisdom is the source through which your counsel is gleaned.  
Part of the shamanic life path involves mastery over the extremes of existence.  Energetic highs followed by crushing fatigue, feeling taxed beyond your limits of body and mind, perhaps even an experience of near-death or symbolic death of the personality, a profoundly challenging illness in body or mind, or a period of spiritual darkness which eventually leads you to a healing rebirth, these are all possible ways that the shamanic soul can progress through its training.  
When it's right for you, Great Spirit will bring you the necessary guides and teachers in the spiritual and the physical worlds, so that you can learn how to safely enter into and ground out of expanded states of awareness.  This will increase your ability to hear and channel the messages of Great Spirit. Trust that your heart will recognise your true teachers – which will not always be those that claim to be your true teachers – as you participate fully in your unfolding journey with trust.  
MAMA QUILLA
I, the Lunar Mother, bring you my Mandala of the Moon to manifest through the law of magnetic attraction.  My mandala is the sacred portal through which your dreams, intentions and visions shall pass into the wholeness of being, from the realm of inspiration into the world of form on earth.  There is no need for doubt or concern, for even the appearance of delay signifies that the divine feminine mystery is at work, with timing unfolding according to a higher, loving wisdom.  Trust that what is falling away is meant to be, whilst you have faith in new divine works being born.
Relax with trust and positive expectations that all your needs will be met.  This makes it easier for abundance to flow and all earthly and spiritual matters to fall into place according to a great and loving higher intelligence.  Things are changing even if you cannot see the physical evidence of this as yet. Trust that your actions are leading you into a better way of life. Rely on the Universe and you shall see how all things come together according to a timing and higher order that suits you, in ways even better than you have imagined yourself.
Don't resist the natural cycle of creation.  This means accepting the symbolic night during which we cannot act, we cannot see, we have to rest and be patient, having faith that the day will dawn at the right time.  So we do not insist that things manifest immediately according to our personal opinion about how, why, when and where. The Divine has a destiny intended for you. When you surrender, you are led into it.   
Wowzer, wowzer. Well delicious lovely –  Clan, Mastery and Luna. Seriously, you can't make this shit up!  I so love the cards and my guides. Okay, wishing you an amazing, frigging awesome week as we head into October.  Pick up red leaves, play with water, breathe yourself back into your body, remember you are not alone and you are important and appreciated.  Sending you massive hugs and squeezes. Warm soxs and cups of tea. See you next week!